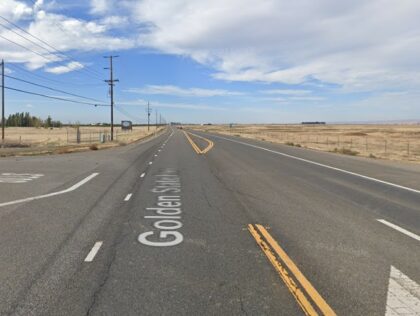 One person was killed and at least one other was injured following a multi-vehicle collision north of Chico on Tuesday afternoon, March 07, 2023.
According to the California Highway Patrol, the fatal four-vehicle crash occurred around 3:00 p.m. on State Route 99 north of Cana Highway near the Butte and Tehama county lines.
A northbound silver Toyota sedan reportedly veered into oncoming traffic. It hit the left side of a big rig driving the opposite way, causing the truck's trailer's rear axle to dislodge and strike a red Toyota pickup in the northbound lane.
The pickup rolled onto its side on the highway's right shoulder. The impact of that collision caused the axle to hit a fourth vehicle, this time a silver Honda sedan, after it traveled back into the southbound lane.
Two people were extricated by the Butte County Cal Fire. The Toyota sedan's 52-year-old female driver from Chico was hospitalized, where she later died from her serious injuries. No further information on her identity was released.
52-year-old Chris L. from Shasta Lake, the Toyota pickup driver, was taken to the Enloe Medical Center with moderate injuries. No other details were immediately available on the other motorists' condition.
Whether inattentive driving or driving while intoxicated played a role is still being investigated. Motorists are diverted onto Cana Highway as the debris-clearing operation that covered a quarter-mile of the roadway ensued.

Fatal Multi-Vehicle Accident Statistics
In the United States, automobile collisions are the leading cause of a disproportionate share of accidental fatalities and injuries. Around two million people lose their lives and ten million are injured every year due to accidents worldwide.
After three years of decline, the National Safety Council reported an 8.3 percent increase in traffic fatalities in 2020. There were 39,107 fatalities in vehicle collisions in the United States in 2019. The number increased to 42,338 in 2020.
As many as 3,847 persons perished in automobile accidents in California in 2020. There were 2,260 fatalities (59% of the total) in single-vehicle accidents and 1,587 deaths (or 41%) in accidents involving two or more vehicles.
What to Do After a Car Accident
Don't hesitate to call 911 if you or a loved one are involved in an automobile accident. It's beneficial for all parties involved to provide as much detail as possible when speaking with authorities or insurance companies.
Assumptions are best avoided. Victims may express remorse even though they had no part in causing the occurrence. Thus, the insurance firm may find such conduct to be the cause for denying the claim.
Inquire at the relevant division for a copy of the report detailing the results of the probe. A contact form is provided for your convenience on this page. As soon as we get the report, we can start working on your request. Our well-known attorney will analyze your insurance claim at no cost to you to make sure you get the most out of it.
Car Accident Lawyers in Butte County
When you or a loved one suffer injuries in a car crash, you have the legal right to a free first consultation with a local personal injury or wrongful death attorney. Please contact us if you have any questions about submitting a claim or if you would want to speak with an attorney before doing so.
Our trusted Butte County car accident lawyers at Arash Law, led by Arash Khorsandi Esq., have the recognition and vast experience to advocate for accident victims, with awarded compensation totaling $400 million as of yet. Contact (888) 488-1391 or click the "Do I Have a Case?" on our website to schedule a free consultation with one of our lawyers.