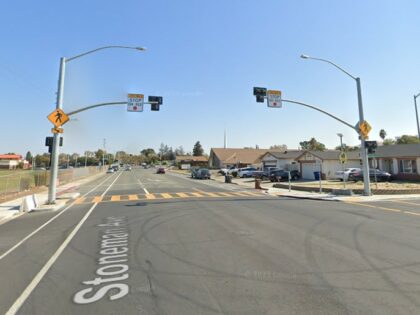 A pedestrian was killed after being struck by a vehicle outside of Black Diamond High School in Pittsburg on Tuesday night, March 07, 2023.
The Pittsburg Police Department reported that the fatal crash occurred before 9:00 p.m. on Stoneman Avenue near Meadowbrook Circle and Loveridge Road.
The responding officers arrived at the scene and located the victim dead at the crash site just outside the school. No other information on the victim's identity was available.
The area was closed for a considerable time as the police processed the site and investigated the crash. Motorists were advised to look for alternative routes.
There were no further details released on the driver involved.

Fatal Pedestrian Accident Statistics
According to the Governors Highway Safety Association, the number of lives lost in car crashes decreased by 14% between 2007 and 2016. However, the number of pedestrian fatalities rose by 27% throughout the same time frame. These statistics suggest that walking along U.S. roads is becoming increasingly dangerous.
Reports from 2016 indicated that there were 5,977 pedestrian fatalities. To put it another way, by the end of that year, about 88 individuals were passing away every minute. In 2017, more than 137,000 pedestrians were injured and needed medical assistance as a result of their traffic-related accidents.
In California in 2012, 893 pedestrians were killed and nearly 14,000 were injured. As the statistics demonstrated, this is a significant cause of injury and death for California's pedestrian population.
What to Do After a Pedestrian Accident
Either you or a family member should call 911 immediately if you're involved in an automobile crash. It is in everyone's best advantage to provide as much detail as possible when speaking with authorities or insurance companies. Never assume anything. Some victims may apologize even though they had no hand in causing it. There is a chance that the insurance company will use this action against you in the event of a claim.
Contacting the relevant agency will net you a copy of the completed investigation report. On this page, you'll find a contact form for your convenience. As soon as we have the report in hand, we will start working on your request. Take advantage of our well-respected lawyer's free consultation and maximize your insurance benefits.
Pedestrian Accident Lawyers in Contra Costa County
In California, pedestrians have the same protections under the law following an accident as drivers, cyclists, and passengers. If you or a loved one sustained injuries in a car crash that was not your fault, you may be eligible to seek compensation from the negligent driver.
Our trusted Contra Costa County pedestrian accident lawyers at Arash Law, led by Arash Khorsandi, Esq., have extensive experience and accolades advocating for accident victims. Our clients have been awarded compensation totaling $400 million.
Call (888) 488-1391 now or click the "Do I Have a Case?" on our website to set up a free consultation with one of our attorneys.