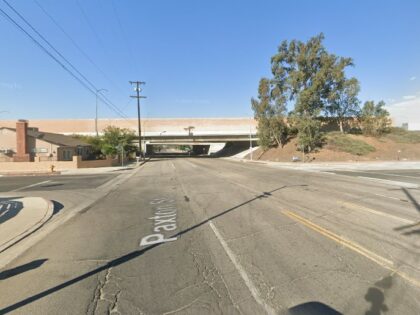 An unidentified pedestrian was killed after a hit-and-run crash in Los Angeles on Tuesday afternoon, March 7, 2023.
According to authorities, the deadly collision occurred around 12:45 p.m. at Remick Avenue and Paxton Street, near Interstate 5 and the Ronald Reagan (118) Freeway.
Officials received calls on a report of an assault with a deadly weapon and vehicle.
When they arrived, they found a victim in the street suffering from blunt trauma.
According to investigations, the driver intentionally drove his vehicle, described as a burgundy Chevrolet 1500 pickup truck, into the victim before fleeing the scene.
Paramedics transported the victim to a hospital, where he succumbed to his injuries. His identity could not be determined right away.
The suspect was apprehended later Tuesday at a motel in North Hollywood by LAPD/FBI Fugitive Taskforce detectives. His identity was not immediately revealed.
Those with information about the case are encouraged to contact LAPD Operations Valley Bureau detectives at 818-374-9550 or 877-LAPD-247.

Fatal Hit-And-Run Crash Statistics
According to the AAA Foundation for Traffic Safety, approximately 680,000 injuries and deaths occur annually because of hit-and-run accidents.
A large number of fatal hit-and-run accidents have occurred in recent years. In 2020, these mishaps accounted for 24% of pedestrian deaths.
In recent data, California has the highest pedestrian injuries and fatalities rate. In 2012, there were 893 pedestrian deaths in California and 14,000 injuries.
Hit-and-run collisions occur when two vehicles collide, and one of the drivers flees without helping the victim. Aside from the anguish and pain caused by accidents that result in injuries, victims of hit-and-run accidents can experience further harm if they are not treated promptly.
Pedestrians are more likely to be injured or killed when vehicles fail to yield or abruptly stop. As a precaution, pedestrians should always be careful when crossing parking lots and driveways. Doing so can lessen their chances of being involved in these accidents.
What Should You Do After an Accident
Your first step after an accident should be to stop your vehicle. A hit-and-run is punishable severely under the law. When a person is killed or injured in a collision and law enforcement is absent, the police or CHP should be notified immediately. Any vehicle occupant involved in a collision may report a crash to police or CHP if the driver is physically incapable.
You should move your vehicle off the road if no one has been injured or killed. Authorities may impound vehicles that aren't forced or removed on the street or highway.
Trusted Hit-And-Run Accident Lawyers in Los Angeles
It may require considerable time and effort for traumatic accident victims to heal. The cost of medical treatment can be high, and patients may be unable to work.
A person injured in such an accident should seek legal help immediately. Even if the hit-and-run driver is never found, they may be liable for the damages caused.
We guarantee that your case will be handled with the highest level of care and diligence with our legal team on your side. It is imperative to hold reckless drivers accountable at all costs.
You can trust our Los Angeles hit-and-run accident lawyers at Arash Law, led by Arash Khorsandi, Esq., to defend your rights, given their substantial legal experience. Given our contingency fee basis, you can count on us to fight for the claim you are owed without paying anything out-of-pocket.
To speak with one of our attorneys, dial (888) 488-1391 or use the "Do I Have a Case?" link on our website.