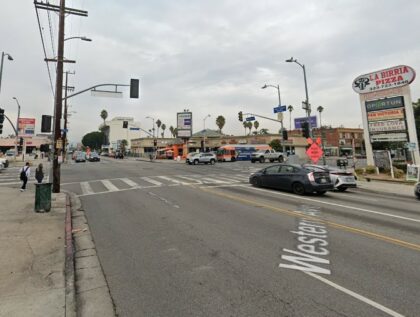 Several people were injured after a pursuit led to a multi-vehicle collision in Los Angeles early Tuesday morning, March 7, 2023.
According to reports, the crash transpired around 12:45 a.m. in the Harvard Heights neighborhood.
Authorities were pursuing a silver sedan for unknown reasons, which ended when the suspect collided with two other vehicles at the intersection of Western Avenue and Washington Boulevard.
Firefighters responded to the scene and transported six patients to local hospitals.
A 20-year-old man and woman were both listed in critical condition, while a 22-year-old woman and three teenagers sustained minor injuries.
Authorities apprehended at least two people inside the suspect vehicle.

Multi-Vehicle Collision Statistics
As per the National Highway Traffic Safety Administration, more than 5.2 million car accidents occurred in America in 2020. Less than 1% (35,766) of these collisions resulted in fatalities, while more than 30% (1.6 million) were injury-related.
In 2020, fatalities increased by 1.34 per 100 million vehicle miles traveled, and fatal crashes increased by 6.8%. Injuries decreased by 6% in 2020 from 2019, with 79 injuries per 100 million vehicle miles.
Drivers account for 67 percent of those killed or seriously injured in car accidents, passengers account for 24 percent, motorcyclists account for 4%, pedestrians account for 3%, and pedal cyclists account for 2%.
Multiple-vehicle collisions occur when a combination of factors leads to a crash involving three or more vehicles. A car accident could trap up to six vehicles in debris.
Unlike traffic accidents, multi-vehicle collisions usually result in fatalities, serious injuries, and property damage. You might endanger those around you if you lose control or are unaware of your surroundings. Collisions of this type are more likely to occur in most cases.
How Do You Obtain a Police Report After an Accident
We can assist in getting a police report after an accident.
We only need details about what happened and where it occurred. Afterward, we will contact the relevant parties and get you all the necessary information.
With our help, you won't have to worry if your insurance will pay for any damage or injuries—we guarantee that everything is covered!
Car Accident Lawyers in Los Angeles with a Winning Track Record
An accident victim might be entitled to compensation if the driver was negligent. California, as well as most other states, requires liability insurance.
Car accident victims have a right to compensation for medical expenses, lost wages and missed work following an accident.
You can count on our Los Angeles car accident lawyers at Arash Law, headed by Arash Khorsandi, Esq., who have extensive experience handling these cases. Our efforts have resulted in compensation totaling more than $400 million for our clients.
People involved in car accidents can get free consultations and case evaluations from our firm. Our client's needs are our top priority, and we ensure they are fairly compensated.
To schedule a free consultation, complete the "Do I Have a Case?" online form or call (888) 488-1391.