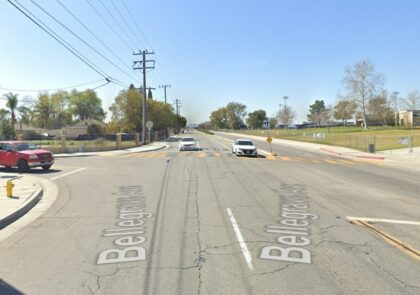 A man was killed after being attacked by four dogs in Jurupa Valley on Tuesday morning, March 7, 2023.
The accident reportedly occurred around 7:30 a.m. at a resident on the corner of Bellegrave Avenue and Martin Street.
Deputies were dispatched to the scene after receiving reports of screaming in the area.
The unidentified victim was allegedly on the property doing some work for the owner during the attack.
The property owner, a homeowner who converted his home into a business, was not present at the time of the attack.
When he arrived, he surrendered the four dogs, three Belgian Malinois and one Cane Corso, to animal control for human euthanasia, according to the statement.
Officials have not revealed any details on the victim, and investigations are ongoing.

Fatal Dog Bite Injury Statistics
According to the Centers for Disease Control and Prevention, 4.5 million Americans are bitten by dogs yearly, with over 800,000 requiring medical attention. It is estimated that at least half of all bite victims are children.
California had the highest number of dog bite fatalities in 2019. A total of 36 dog attacks occurred in 2018, resulting in 15 children and 21 adults dying.
Dogs can attack in several ways, including biting, scratching, and knocking over. Dog bites occur when a dog bites someone and causes bodily harm. Injury from a bite can result in infection, deformity, permanent or temporary damage, and death.
Laws governing dog attacks vary from state to state. Section 3342 of the California Penal Code explains the actions that must be taken in court for a dog bite. Those who suffer losses from dog attacks in a public or private setting while the dog's owner is legally present are held accountable under this article.
People must exercise caution when stroking other dogs since dogs bite frequently. It is crucial to remain calm and avoid physical contact, even if some dogs will attack if not provoked.
How Do I File a Police Report Following an Accident?
Assuming that it is safe to do so, a police report should be filed after gathering information. A central database will enable the police to store information about what occurred during an accident, maintain these records within the police department, and ensure the information is securely stored.
You can file an accident report with your local police department if the police are not present at the scene. Police will collect the information themselves if the officers are not present at the location of the collision, and a report will be issued later.
Dog Bite Attorneys for Victims in Jurupa Valley
Dog bite cases commonly involve violence and tension, especially when several dogs are involved. Survival victims will likely have puncture wounds, scratches, or crush injuries. Dog bite victims who aren't vaccinated may need rabies vaccinations or other treatments if their dog's vaccines are old.
A dog bite can be excruciatingly painful and take weeks to heal. Medical attention should be sought in the event of a dog attack. Treating these wounds as soon as possible will increase your chances of recovery. After that, seek the advice of an experienced dog bite lawyer.
Our firm provides legal representation to victims of dog bites. Our Jurupa Valley dog bite lawyers at Arash Law, led by Arash Khorsandi, Esq., can help you file a claim against the dog's owner based on their knowledge of California's dog bite laws.
To speak with an attorney familiar with California's dog bite laws and who can assist you in filing a claim against the dog's owner, call (888) 488-1391 or visit our website's "Do I Have a Case?" link.