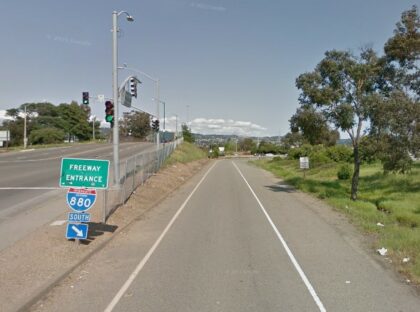 A Red Cross van carrying blood was involved in a two-vehicle collision that injured two people in Oakland on Wednesday night, March 8, 2023.
Authorities confirmed that the crash transpired around 10:46 p.m. Wednesday in the southbound Interstate 880 lanes just north of 66th Avenue.
According to reports, a Red Cross van collided with a Nissan Xterra sport-utility vehicle, causing the Nissan to roll over.
Firefighters also responded, with an arriving battalion chief discovering two overturned vehicles with two injured people, one trapped inside.
Both drivers were taken to a hospital for treatment after being extricated from the Nissan. Thursday night, their conditions were unavailable.
Responders were able to contact multiple hospitals to store the packages of blood.
The cause of the collision is being investigated. Anyone with information is urged to call the CHP's Oakland office at 510-957-8247.

Two-Vehicle Collision Statistics
According to the Fatality Analysis Reporting System, in the United States in 2020, 35,766 people died in 38,824 fatal car accidents. A fatality rate of 1.34 per 100 million miles traveled, or 11.7 per 100,000 people, was recorded.
Unintentional traffic incidents cause over 10,000 deaths in California every year. The diagram depicts the graveness of the situation.
Since 2013, the number of fatal car accidents in California has increased by 23.5%. In 2017, 4,850,866 cars were involved in fatal accidents, resulting in 3,898 deaths.
Driving safely requires maintaining a safe following and leading distance, obeying traffic laws, and taking precautions to guarantee your and others' safety. It is common for fatal automobile accidents to occur despite these precautions.
What Should You Do After an Accident
You can obtain a police report for this accident by contacting your local police department. The police department can provide all the information you need regarding getting a copy of your report. We can provide you with a copy of your police report if you need help obtaining one from the police department directly. You can fill out our online form to do this.
We will begin the claim process for you with no upfront costs once we receive your request for a copy of your report. We will work with you to obtain all necessary documentation and information.
Award-Winning Car Accident Lawyers in Oakland
The recovery process may take longer for traumatized accident victims and require more resources. They may have to pay hefty medical bills and miss work for an extended period.
The filing process for insurance claims can be complicated. With our firm, you are guaranteed to receive the highest quality legal representation.
Compensation from the liable party or their insurance company may ease your financial burden. If you wish to win your case, seek the counsel of an experienced attorney who can guide you through the lengthy legal process.
Our Oakland car accident lawyers at Arash Law, led by Arash Khorsandi, Esq., are committed to defending our client's rights at all times. You can count on us to hasten your recovery and return to your routine immediately.
Call us today at (888) 488-1391 or through our online "Do I Have a Case?" form to learn more about your legal options.