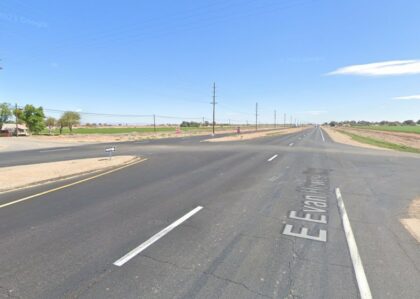 A bicyclist was seriously injured after being struck by a vehicle in Imperial County on Wednesday morning, March 08, 2023.
According to the California Highway Patrol, the crash transpired at 9:30 a.m. on Evan Hewes Highway at Barbara Worth Road, west of Holtville.
The driver that struck the bicycle rider notified the authorities of the crash. The bicyclist was reportedly crossing the highway before getting hit.
The unidentified rider received major injuries and was transported via REACH Air Ambulance to a medical center outside the Valley. No further updates on their condition were released.
The investigation into the circumstances that led to the crash is still ongoing. No other details were immediately available.

Bicycle Accident Statistics
Many Americans worry about the safety of their bicycles despite the existence of regulations intended to protect them. Roughly 800 motorcyclists lost their lives in road accidents in the United States in 2018. There have been plenty of these terrible events in California.
The number of reported bicycle accidents decreased by less than 20% between 2016 and 2017, according to the available data. From 2000 to 2001, the number of bicycle-related accidents decreased by 12%. The toll of fatalities, however, continued to rise.
4.4 % of all traffic-related deaths in California involved bicyclists. In the United States, this ranks above the norm. According to the National Cycling Safety Foundation, 145 people have lost their lives and 11,116 have been injured in bicycle-related accidents in California in 2017.
What to Do After a Bicycle Accident
Please phone 911 immediately if you or a loved one are involved in a bicycle accident. Whether communicating with the law enforcement or your insurance company, always be truthful and avoid making assumptions. Even if they had done nothing to bring about the calamity, some victims may nevertheless feel regret. In the event of a claim, the insurance company might use this kind of behavior as proof against you.
If you contact the appropriate authorities, they will gladly provide you a copy of their investigation's final report. There is also an online form here that you can fill out. We can get started on your request as soon as we receive the report. Get free advice from our well-respected lawyer on how to get the most out of your insurance policy.
Bicycle Accident Lawyers in Imperial County
In California, if you or a loved one were wounded in a bicycle accident that was the fault of another party, you have the right to sue for damages. During your no-cost consultation, a member of our legal team will go over the details of your case, go over your alternatives, and warn you if there is anything that could reduce the amount of money you receive in a settlement.
Our trusted and award-winning Imperial County bicycle accident attorneys at Arash Law, led by Arash Khorsandi Esq., have extensive experience advocating for accident victims. Our clients have been awarded compensation totaling $400 million.
Contact (888) 488-1391 or click the "Do I Have a Case?" on our website to schedule a free consultation with one of our lawyers.