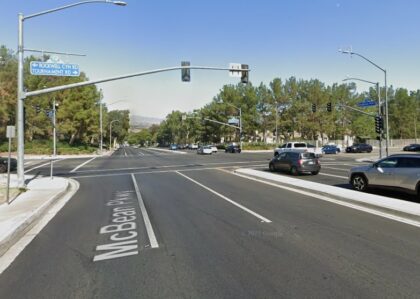 Authorities reported a traffic collision that led to possible injuries with a pedestrian involved in Santa Clarita on Wednesday morning, March 08, 2023.
According to the Los Angeles County Fire Department, the crash occurred at about 11:36 a.m. at the McBean Parkway and Tournament Road intersection.
The circumstances leading to the collision remain under investigation by the authorities. It was initially reported as a vehicular collision with a possible pedestrian getting involved.
The extent of the possible injuries sustained is unclear at this point. No further details are immediately available as the investigation continues.

Pedestrian Accident Statistics
The Governors Highway Safety Association found that the number of people killed in car accidents dropped by 14% between 2007 and 2016. But within that time frame, pedestrian deaths rose by 27%. These statistics indicate that it is becoming increasingly dangerous to walk along U.S. roads.
The numbers for 2016 reveal that there were 5,977 pedestrian fatalities in the country. Over 88 individuals were losing their lives each and every minute towards the end of that year. Injuries sustained by more than 137,000 pedestrians as a result of vehicle crashes last year necessitated medical treatment.
In 2012, 893 pedestrians in California died and nearly 14,000 were wounded. Data shows that this is a major contributor to pedestrian deaths and injuries in California.
What to Do After a Pedestrian Accident
If you or a family member are in an automobile crash, call 911 immediately. It benefits everyone involved to be as detailed as possible when speaking with authorities or an insurance company. Avoid jumping to conclusions. It's possible that some of the victims would blame themselves even though they had nothing to do with causing the disaster. If you make a claim, your insurer could use this information against you.
You can get a hold of the completed investigation report by contacting the relevant body. An online form is provided on this page for your convenience. As soon as we obtain the report, we'll start working on your request. You can benefit from our highly recognized attorney's free advice on maximizing your insurance coverage.
Pedestrian Accident Lawyers in Los Angeles County
Pedestrians in California have the same rights to compensation after an accident as drivers, riders, and passengers in cars. It is possible to seek compensation from the negligent motorist who caused injuries to you or a loved one in an automobile accident that wasn't your fault.
Our trusted Los Angeles County pedestrian accident lawyers at Arash Law, led by Arash Khorsandi, Esq., have extensive experience and accolades advocating for accident victims. Our clients have been awarded compensation totaling $400 million.
Call (888) 488-1391 now or click the "Do I Have a Case?" on our website to set up a free consultation with one of our attorneys.