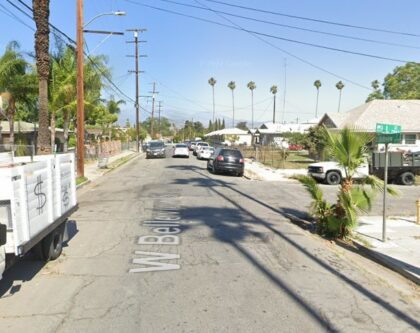 A deputy was sent to the hospital following a traffic collision that resulted from a police pursuit in San Bernardino County on Wednesday afternoon, March 08, 2023.
According to the San Bernardino County Sheriff's Department, the pursuit started around 12:29 p.m. in Loma Linda and ended in a fiery crash in the city of San Bernardino.
A stolen red Honda sedan was first observed by deputies in the area of Mountain View and Prospect avenues in Loma Linda. As they tried to pull over the car, the driver, 43-year-old Louie M. from Hesperia, fled the scene and drove north to the Interstate 50 Freeway.
The Honda was reaching speeds above 100 mph as it entered the westbound I-10. It then sideswiped another car as it transitioned to the northbound I-215 Freeway. The pursuit went on as the suspect exited 215 and continued running through the streets of San Bernardino.
The driver lost control of the car and got involved in a car crash near West Belleview and South L streets. He was eventually caught after attempting to flee from the Honda.
A marked Sheriff's police car was also involved in a car crash at the end of the pursuit. The deputy managed to exit right as the vehicle caught fire. The City Fire department put out the flame and the deputy was sent to a nearby hospital and eventually released.
No further details were released on the possible additional injuries as the investigation continued. The suspect was charged with felony evading with disregard for safety.

Reckless Accident Statistics
Hundreds of people lose their lives and thousands more are injured every year in the United States because of reckless drivers. National Highway Traffic Safety Administration defines reckless driving as "willful disregard" for the safety of other drivers.
Putting a number on the annual human suffering that may be linked to reckless driving is challenging. Still, between 2003 and 2007, careless driving contributed to 56% of all accidents, as reported by the AAA.
According to data collected annually from a wide range of fatal car accidents in the United States, speeding is a major contributing factor.
What to Do After a Car Accident
In an automobile crash, you or a loved one should immediately contact emergency services by calling 911. Whether dealing with law enforcement or insurance companies, it is imperative that you always tell the truth and do not make any assumptions. Even if they had no part in what happened, some victims might say sorry. Such conduct could be used as justification for a claim denial by an insurer.
Contacting the proper authorities will allow you to obtain a copy of the completed report. You can also fill out the online form on this page. We can begin working on your request as soon as we receive the report. Get free, expert advice from our well-regarded attorney on how to get the most out of your insurance policy.
Reckless Accident Victim Lawyers in San Bernardino County
In the event of a fatality or severe injury, the family of the victim may have legal recourse against the negligent driver. Get in touch with a lawyer that focuses on personal injury cases if you are ever involved in an accident in California that was caused by another driver's negligence.
Our award-winning San Bernardino County reckless accident lawyers at Arash Law, led by Arash Khorsandi, Esq., have years of experience in advocating for accident victims, with granted compensation totaling $400 million so far. Contact (888) 488-1391 or click the "Do I Have a Case?" on our website to schedule a free consultation with one of our lawyers.