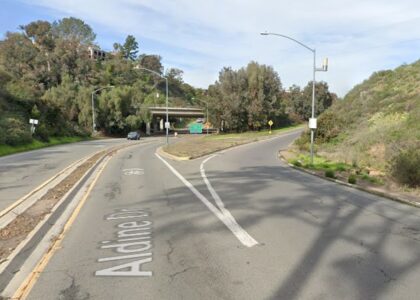 A 33-year-old male pedestrian sustained serious injuries after being struck by a vehicle in San Diego early Wednesday morning, March 08, 2023.
According to the San Diego Police Department, the pedestrian crash occurred around 6:16 a.m. on the transition ramp from Aldine Drive to northbound Fairmount Avenue in the Kensington neighborhood.
The victim was reportedly crossing the transition ramp when a 26-year-old man driving a 2008 Nissan Altima struck him. The pedestrian sustained life-threatening injuries and was transported to the hospital in an unknown condition.
No further information was released on the victim's identification and the involved driver's condition. The SDPD Traffic Unit is looking further into the crash.
No other details were immediately available. Call the traffic unit if you have any information regarding the pedestrian crash.

Pedestrian Accident Statistics
Between 2007 and 2016, the number of lives lost in car accidents reduced by 14%, as reported by the Governors Highway Safety Association. But, within that time period, there was a 27% increase in pedestrian fatalities. These numbers show that it is getting riskier to walk along U.S. roads.
Statistics show that there were 5,977 pedestrian deaths in 2016. By the end of that year, roughly 88 people were dying every minute. More than 137,000 pedestrians were hurt and required medical attention as a result of car collisions last year.
In the year of 2012, 893 pedestrians died and over 14,000 were injured in California. According to the data, this is one of the leading causes of unintentional mortality and injury among California's pedestrians.
What to Do After a Pedestrian Accident
You or a member of your family should dial 911 immediately if you're in a car accident. When communicating with law enforcement or an insurance company, it is in everyone's best interest to be as thorough as possible.
You should not make any assumptions. While they played no role in bringing about the tragedy, some victims may feel responsible for it. An insurance company might use this against you in the event of a claim.
A copy of the final investigative report can be obtained by contacting the appropriate agency. This page provides a contact form that you can fill out. We will get started on your request as soon as we receive the report. Get our highly regarded attorney's advice on how to get the most out of your insurance policy for no cost.
Pedestrian Accident Lawyers in San Diego County
After a collision, pedestrians in California enjoy the same legal protections as motorists, bikers, and passengers. If you or a loved one are hurt in a car crash that wasn't your fault, you may be able to file a claim for damages against the at-fault driver.
Our trusted San Diego County pedestrian accident lawyers at Arash Law, led by Arash Khorsandi, Esq., have extensive experience and accolades advocating for accident victims. Our clients have been awarded compensation totaling $400 million.
Call (888) 488-1391 now or click the "Do I Have a Case?" on our website to set up a free consultation with one of our attorneys.