Significant Injuries Reported After Lake Elsinore 2-Vehicle Crash on Railroad Canyon near Church Road.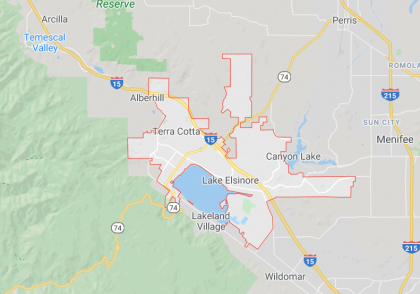 Lake Elsinore, CA – Two people were hospitalized after a two-vehicle collision on March 9th in Lake Elsinore. Due to the severity of the impact, one person was trapped inside one of the cars.
According to the initial reports, the two vehicles collided around 12 p.m. at the intersection of Railroad Canyon Road and Church Road. The collision resulted in one passenger getting trapped in one of the vehicles. Paramedics and an emergency crew were immediately dispatched at the scene. 
The trapped passenger was extracted from the vehicle. A total of two people attained severe injuries from the crash; they were both transported to a nearby hospital. 
Pedestrian Crash Investigation is Underway
Local authorities are currently trying to determine the cause of the incident through an official investigation. 
Determining who the at-fault party is in an auto collision is a complicated process. Although it is easy to determine who the responsible driver is during the crash, it can be quite challenging to prove the negligence of the other driver. 
When facing cases like this, it's essential to have an experienced California personal injury attorney to conduct a private investigation to prove the negligence of the guilty party. 
Aside from the criminal charges, the victims can also seek compensation through a civil lawsuit filed against the guilty party. With the help of a professional California personal injury attorney, the legal process would be easier for the victim. Personal injury attorneys can re-interview important witnesses, analyze relevant surveillance videos from the scene of the crash, and gather phone and texting records of the liable party. 
A Riverside Personal Injury Attorney Can Help You
Insurance companies tend to pressure their victims to settle for a quick payout even though the case is worth more. They would attempt to limit the compensation and disregard the long-term consequences and suffering that a victim might experience. 
While the investigation is on-going, victims are encouraged to file a personal injury claim with the help of their personal injury attorney. This enables your attorney to negotiate with an insurance company on your behalf. Attorneys will actively fight for their client's rights and ensure that they are treated with respect and compensated reasonably financially. 
Suffering from a severe injury after an accident may feel overwhelming and has the potential to disrupts all aspects of life, such as family, work, finances, and quality of life. Personal injury attorneys in Riverside can serve as a reliable guide for vulnerable victims, ensuring that their rights are protected and that the guilty party will be held accountable for their crimes. 
Car accidents happen far too often in California and all over the country. Did you know that every six seconds, another person is injured in a car crash? This terrifying statistic is part of the reason that we at Arash law are committed to serving car accident victims in Los Angeles, San Francisco, Sacramento, Sherman Oaks, San Diego, Riverside, and the rest of California. Our years of experience make us uncommonly aware of how a car accident can change your life. Not knowing where to turn post-accident is common, but you should look for a qualified Riverside injury lawyer as soon as possible. Finding someone committed to fighting for you can go a long way towards reducing the anxiety and sadness you feel in the wake of an accident.