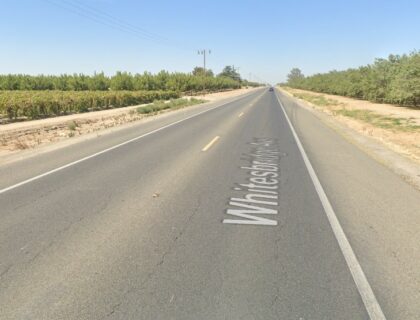 Three people sustained injuries after a pursuit led to a two-vehicle collision in Fresno on Thursday morning, March 9, 2023.
According to reports, the crash transpired around 6:30 a.m. at Whitesbridge Avenue on Highway 180.
Authorities started a chase after a suspected armed robbery at a Chevron station around 6:00 a.m.
Due to the suspect vehicle's speed, the police stopped the pursuit.
The vehicle continued on Cornelia Avenue and ran the stop sign at Whitesbridge Avenue, striking a car that did not have a stop sign.
The woman driving the other car suffered significant injuries after being broadsided and rolled over.
Meanwhile, two male juveniles were treated for minor to moderate injuries before being arrested.
Traffic was impacted between Cornelia and Blyth Avenues for several hours.

Two-Vehicle Collision Statistics
There has been a dramatic increase in traffic fatalities in the United States recently. Annually, more than a million people are killed in car accidents. Approximately 3,287 people are killed in these crashes daily.
A car accident causes between 20 and 50 million non-fatal injuries yearly, many permanently disabling their victims. In the last ten years, it has contributed to 8% of all fatal accidents in the state.
The NHTSA Fatality and Injury Reporting System Tool reported that 3,322 Californians die in car accidents yearly, which has increased by 33% since 2010.
High financial costs are associated with traffic accidents for individuals, families, and nations—the expenses arising mainly from lost productivity and medical costs.
To keep yourself safe on the road, keep a safe distance between you and the cars in front and behind you. Bear in mind potential hazards and obey traffic laws. Despite these safety precautions, there are still many traffic fatalities.
How To Obtain a Police Report Following an Accident
An accident report can be obtained from the local police department. The police department will be able to provide you with the necessary information about getting the report. You may submit a request to us for a copy of your report if you cannot obtain it directly from the police department. Our online form can be filled out to do this.
Upon receiving your request, we'll begin the claims process without requiring any upfront payment. As part of this process, we will work closely with you until all necessary information and documentation have been gathered.
Reliable Car Accident Lawyers in Fresno
Accident victims will incur medical debt and lose their jobs for several years due to their injuries. Additionally, the victim may suffer from emotional distress, psychological trauma, and physical discomfort.
As compensation requires cooperation from both parties, you should seek legal counsel if you feel pressured by an insurance company to take action. When recorded testimony is used against you, the responsible party may be held less accountable.
You can rely on our Fresno car accident lawyers at Arash Law, headed by Arash Khorsandi, Esq., to immediately investigate the situation. As part of the settlement process, our attorneys negotiate with insurance companies to ensure that damages are assessed fairly.
Over $400 million has been recovered for our clients over the last few years. Our law firm has over a decade of experience handling cases of this nature.
Arrange a no-obligation consultation with our reputable legal team by calling (888) 488-1391 or through our website's "Do I Have a Case?" form.