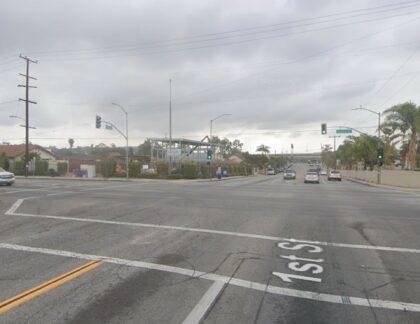 Three people, including two CHP officers, were injured after a DUI two-vehicle collision in East Los Angeles, Los Angeles County, on Thursday morning, March 09, 2023.
According to the California Highway Patrol and the Los Angeles County Sheriff's Department, the crash involving a DUI driver occurred at midnight at the 1st Street and Eastern Avenue intersection.
The CHP cruiser was reportedly traveling on 1st Street when it got struck by a Honda Accord traveling on Eastern Avenue at the intersection. Both vehicles were severely damaged, with the two officers trapped inside the patrol vehicle.
The L.A. County Fire Department and East L.A. Station deputies also responded to the site. The officers self-extricated and were taken to a hospital with moderate injuries. One person inside the Honda was also hospitalized. No updates on their conditions were released.
The driver of the Honda was detained on suspicion of driving under the influence. No other information was immediately available as the investigation continued.

DUI Accident Statistics
Alcohol and drunk driving were a factor in 10,142 deaths on US roads in 2019. With 949 deaths attributed to DUI in California in that same year, the rate was 2.4 cases per 100,000 residents. The national rate across the US was 3.1%. Drunk driving was a factor in 28.1% of all fatalities in the United States and 26.3% of fatalities in California.
Another report finds that while the number of drunk drivers has decreased since the 1980s, the number of fatalities, injuries, and accidents caused by intoxicated drivers remains much too high.
If your BAC or Blood Alcohol Concentration is 0.08 or over in California, you will be arrested. Drunk drivers pose a threat to other motorists due to their impaired perception and decision-making.
What to Do After a DUI Accident
If you or a loved one have been involved in an automobile accident involving a drunk driver, dial 911 immediately. It's crucial to be honest and avoid forming assumptions while communicating with law enforcement or an insurance company. Some victims might feel obligated to express regret even if they had nothing to do with the incident. Such conduct could lead to a claim being denied by an insurer.
Obtaining a copy of the completed report is as simple as requesting one from the appropriate authorities. Alternatively, you may use the form on this page to contact us. We'll get started on your request as soon as we receive the report. With a free consultation from our highly renowned attorney, you may learn how to maximize your insurance benefits.
DUI Accident Lawyers for Victims in Los Angeles County
Injury victims caused by intoxicated drivers in California can sue the motorist in civil court for monetary damages. Please don't hesitate to get in touch with us if you or a loved one have recently been injured and require assistance in reaching a settlement with an insurance provider.
Our trusted Los Angeles County drunk driving accident victim lawyers at Arash Law, led by Arash Khorsandi, Esq., have extensive experience advocating for accident victims, with awarded compensation totaling $400 million.
Call (888) 488-1391 now or click the "Do I Have a Case?" on our website to set up a free consultation with one of our attorneys.