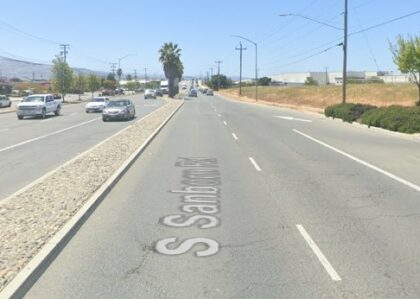 Three people were injured following a multi-vehicle collision in Salinas on Thursday afternoon, March 09, 2023.
According to the Salinas Fire Department, the three-vehicle crash occurred shortly before 2:00 p.m. on South Sanborn Road.
The circumstances leading to the crash remained unknown, but each vehicle had at least one occupant who sustained moderate injuries.
The victims were transported to a nearby trauma center in unknown conditions. The total number of people involved is unclear at this point.
Only one lane of South Sanborn heading toward Highway 101 was open for traffic for roughly 30 minutes while the debris was being cleared.
The investigation continues, including whether speeding or intoxication played a role. No further information was immediately available.

Multi-Vehicle Accident Statistics
In the United States, automotive accidents are the largest source of both accidental death and injury. In addition, about two million people die and ten million are injured each year as a result of motor vehicle collisions worldwide.
The National Safety Council stated that the three-year downward trend in traffic-related fatalities in the United States had been reversed in 2020, with an 8.3% increase. In 2019, there have been 39,107 fatalities attributed to automobile accidents. In the year 2020, there were 42,338.
There were 3,847 fatalities in automobile accidents in California in 2020. The majority of the fatalities (2,260 or 59%) involved only one car, while nearly half (1,587 or 41%) included multiple vehicles.
What to Do After a Car Accident
If you or a loved one are involved in an automobile accident, you should call 911 immediately. Never make assumptions when communicating with law police or your insurance provider; instead, give them factual information. It's possible that some victims will feel compelled to apologize, even though they had nothing to do with the incident. The insurance company may use this as grounds for denying the claim.
A copy of the final report can be obtained by contacting the proper authorities. We also welcome your messages via the contact form on this website. After receiving the report, we will immediately begin working on your request. If you have questions about how to get the most out of your insurance policy, our famous attorney is glad to consult with you for free to answer your questions.
Car Accident Lawyers in Monterey County
If you or a loved one has been hurt in a car crash, you are entitled to a free first consultation with a local personal injury or wrongful death attorney. If you need help making a claim or would just like to talk to an attorney about your situation, please get in touch with us.
Our trusted Monterey County car accident lawyers at Arash Law, led by Arash Khorsandi Esq., have the recognition and vast experience to advocate for accident victims, with awarded compensation totaling $400 million as of yet. Contact (888) 488-1391 or click the "Do I Have a Case?" on our website to schedule a free consultation with one of our lawyers.