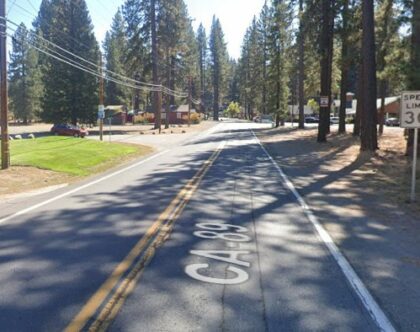 Two people were injured following a two-vehicle head-on collision in Plumas County on Thursday afternoon, March 09, 2023.
According to the California Highway Patrol and Plumas County Sheriff's Office, the crash occurred in the afternoon near the census-designated place of Graeagle.
Two vehicles with major damages were involved. One of the drivers, 91-year-old David B. from Quincy, was sent to Renown Medical Center in Reno with unspecified injuries.
The other driver, 36-year-old Aaron W. from Portola, reported shoulder pain but intended to seek his own medical assistance. No updates on their conditions were released.
The county fared with a storm and flood warning overnight, and the crash happened in wet, slushy snow.
The investigation into the crash continued.

Two-Vehicle Accident Statistics
The leading cause of the disproportionate number of unintentional deaths and injuries in the United States is automobile accidents. Around two million people every year lose their lives and ten million are injured as a result of car crashes around the world.
The National Safety Council reported that in 2020, the three-consecutive year of a declining trend in traffic-related fatalities in the United States was reversed. In 2019, there were 39,107 people killed in car accidents across the country. There were 42,338 in 2020.
In 2020, 3,847 people lost their lives in traffic-related incidents across the state of California. Of the total fatalities, 2,260 (or 59%) occurred in incidents involving a single vehicle, while 1,587 (or 41%) occurred in collisions involving two or more cars.
What to Do After a Car Accident
Call 911 immediately if you or a loved one have been involved in a car accident. When dealing with law enforcement or an insurance company, it is imperative that you always be forthright and avoid making any assumptions. Even if they had nothing to do with what happened, some victims might nonetheless apologize. As a result of actions like these, an insurance provider may decide to deny a claim.
You can receive a copy of the final report by contacting the relevant authorities and asking for it. As an alternative, please fill out the online form on this page. Soon as we have the report, we will begin working on your request. Learn how to get the most out of your insurance coverage with a free consultation from our highly regarded attorney.
Car Accident Lawyers in Plumas County
You have the right to a free consultation with a local personal injury or wrongful death attorney if you or a loved one have been injured in an automobile accident. Don't hesitate to contact us if you have any questions about filing a claim or would like to discuss your situation with an attorney.
Our trusted Plumas County car accident lawyers at Arash Law, led by Arash Khorsandi Esq., have the recognition and vast experience to advocate for accident victims, with awarded compensation totaling $400 million as of yet. Contact (888) 488-1391 or click the "Do I Have a Case?" on our website to schedule a free consultation with one of our lawyers.