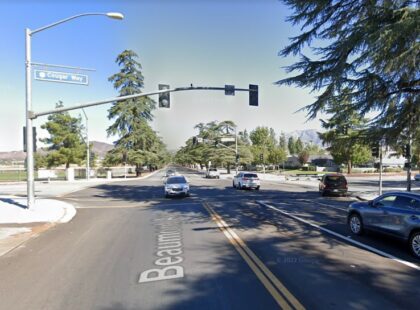 At least one person was injured and hospitalized following a two-vehicle collision resulting from a high-speed chase in Beaumont on Thursday afternoon, March 09, 2023.
According to the Beaumont Police Department, the pursuit occurred around 5:00 p.m. at Beaumont Avenue and Cougar Way and ended in an injury crash at Beaumont Avenue and Oak Valley Parkway.
The suspect driver, 18-year-old Diego G., tried to perform an illegal high-speed turn at the intersection of Cougar Way. He then fled the authorities when he was pulled over and asked for his license, leading to a police pursuit.
The driver made another illegal turn at the intersection of Oak Valley Parkway, where he crashed into another vehicle. The driver and the motorist of the second car complained of pain. One was sent to a hospital for additional assessment—no words on their current state.
Diego was detained and is currently being held on $250,000 bail due to pending charges of evading the authorities and causing a crash injury.
No further information was immediately available while the investigation continued.

Reckless Accident Statistics
Every year, reckless drivers in the United States inflict hundreds of deaths and thousands of injuries. Reckless driving is defined as "willful disregard" for the safety of other drivers by the National Highway Traffic Safety Administration.
The annual human suffering that is likely to be caused by careless driving cannot be quantified because it is difficult to put a number to it. Nevertheless, the AAA found that between 2003 and 2007, 56% of all accidents were caused by irresponsible driving.
As per the data collected every year, speeding is one of the most prominent causes of fatal car accidents in the United States, regardless of the type of accident.
What to Do After a Car Accident
In the event of a car collision due to a reckless driver, either you or a loved one should immediately contact emergency services by dialing 911. Always provide accurate information when speaking with law enforcement or your insurance provider and avoid making assumptions. Some victims may feel obligated to offer an apology, even if they had nothing to do with what occurred.
Such conduct may be cited as justification for an insurance company's decision to deny a claim.
If you want a copy of the final report, you must ask for one from the appropriate authorities. The contact form on this page is another way to contact us. We'll go to work on your request as soon as the report comes in. Our renowned lawyer is available for a no-cost consultation, during which they can advise you on how to maximize the benefits of your insurance plan.
Reckless Accident Victim Lawyers in Riverside County
If a fatality or serious injury occurs, the victim's family may be able to file a lawsuit against the careless driver. If you are ever in an accident in California that was the fault of another vehicle, don't hesitate to contact a personal injury attorney.
Our award-winning Riverside County reckless accident lawyers at Arash Law, led by Arash Khorsandi, Esq., have years of experience in advocating for accident victims, with granted compensation totaling $400 million so far. Contact (888) 488-1391 or click the "Do I Have a Case?" on our website to schedule a free consultation with one of our lawyers.