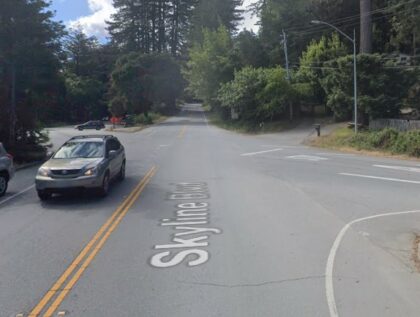 A single-vehicle crash injured two people in Redwood City on Thursday, March 9, 2023.
According to reports, the collision occurred near the intersection of Old La Honda Road and Skyline Boulevard.
Authorities stated that two people were trapped inside a Tesla, causing both passengers to sustain minor injuries. Both victims are expected to recover.
The San Mateo County Sheriff's Office, Cal Fire Redwood City, Woodside Fire, Kings Mountain Fire, Midpen Rangers POA, and CHP Redwood City responded.
The road was briefly closed Thursday night as crews worked to clear the area.

Single-Vehicle Crash Statistics
According to the Centers for Disease Control and Prevention, 1.35 million people die on American roads yearly. Pedestrians, bicyclists, and motorcyclists suffer fatal injuries in these collisions.
Car accidents are the world's eighth leading cause of death and the number one cause of death among teenagers and young children.
As of 2020, the United States had 1.37 fatalities per 100 kilometers driven. Compared to the previous year, there were 18.4% more traffic fatalities in the first quarter of 2021.
Several factors can cause a single-car collision. Drivers lose control of their vehicles after speeding or sudden maneuvers on wet, slick roads, resulting in run-off-the-road accidents.
Streets may also be littered with branches and items that fall from trucks.
These accidents can be reduced by wearing a seatbelt, remaining alert, and avoiding distractions while driving. Even with precautions, individuals risk being involved in fatal incidents.
What Should You Do After an Accident Occurred?
Ensure law enforcement arrives at the scene and files a report. When interviewing at the location of the accident, be honest about what you witnessed and experienced. Be careful with your words and avoid making assumptions about things you don't understand. It is common for accident victims to apologize profusely after an accident, even if they are not at fault. This act of kindness can be twisted into evidence that you admitted guilt by insurance companies to avoid paying out a claim.
Due to California's high traffic accident rate, pedestrians, cyclists, and passengers have all been injured. No matter whether you were in a vehicle at the time of the accident, our lawyers are here to help. While you focus on getting better, we'll pursue the money you're owed under the law, keeping you updated.
Car Accident Attorneys in Redwood City
Careless driving is wrong, regardless of whether it causes physical harm. Insurance claims can be filed against the driver's insurance company if the reckless driver's actions directly caused one's injury.
It can be emotionally draining to testify about past losses and traumas at a deposition or trial. Court hearings can be highly stressful for anyone, especially for victims.
After a car accident, you must file a lawsuit against the party who caused the accident. Those responsible for an injury due to someone else's irresponsibility must be held accountable.
Our Redwood City car accident attorneys at Arash Law, headed by Arash Khorsandi, Esq., are here to protect your rights and help you recover financial compensation after a car accident.
Our clients come from all over California, including major cities like Los Angeles, San Diego, Bakersfield, Riverside, San Jose, and Sacramento. To schedule a no-obligation consultation with one of our attorneys, dial (888) 488-1391 or fill out our "Do I Have a Case?" form on our website.