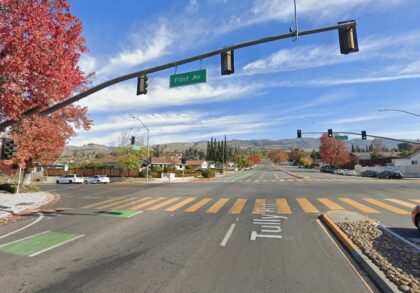 A pedestrian was hospitalized with life-threatening injuries after being hit by a car that fled the scene in San Jose on Thursday evening, March 09, 2023.
According to the San Jose Police Department, the hit-and-run crash occurred around 7:00 p.m. near the intersection of Tully Road and Flint Avenue.
Prior to the collision, the pedestrian was crossing the traffic lanes on southbound Tully Road outside a marked crosswalk as he was reportedly assisting a family in a disabled car. The unidentified victim was taken to a nearby hospital with severe injuries in an unknown state.
A pickup truck turned from southbound Flint Avenue onto westbound Tully Road when it hit the man and fled the scene. Authorities described the car as a white or light-colored four-door pickup truck, the model, make, and year of which were not immediately known.
The police appealed to the public for help searching for the suspect driver. Anyone with information is urged to contact them anonymously or otherwise.

Hit-and-Run Accident Statistics
In the United States, it is illegal to leave the site of an accident without rendering aid to the injured or notifying the authorities. If you cause an accident and then abandon the scene, you could face legal consequences, including jail time.
There were 737,100 hit-and-run accidents in the United States in 2015, per data from the National Highway Traffic Safety Administration. In the United States, a hit-and-run occurs every 43 seconds, according to the data. The number of people killed in hit-and-run accidents set a new high in 2016, with 2,049 recorded deaths.
There were 3,056 fatalities in the state of California due to 2,948 hit-and-run accidents between 2010 and 2019. This type of accident consistently results in large death tolls in California.
What to Do After a Hit-and-Run Accident
If you or a loved one has been in a hit & run accident, dial 911 immediately. Always be honest and never make assumptions while communicating with law enforcement or insurance companies. Innocent victims may apologize even if they were not at fault. An insurance company can decide not to pay out if the victim acts in such a way.
Making a formal request to the appropriate authorities will result in receiving a copy of the completed report. Contact us as soon as possible by filling out the brief online form on this page. As soon as we get your inquiry, we'll get to work on it. Contact our well-known attorney for a free, no-obligation consultation if you have questions about the value of your claim.
Hit-and-Run Accident Victim Lawyers in Santa Clara County
If you are involved in a hit-and-run accident in California, you have the option of filing an insurance claim and going to court to recover damages if needed. Do not wait to get in contact with one of our highly regarded lawyers if you or a loved one has been gravely injured or murdered due to the negligence of another.
Our trusted Santa Clara County hit-and-run accident victim lawyers at Arash Law, led by Arash Khorsandi Esq., have experience and accolades advocating for accident victims, with awarded compensation totaling $400 million. Call (888) 488-1391 now or click the "Do I Have a Case?" on our website to set up a free consultation with one of our attorneys.