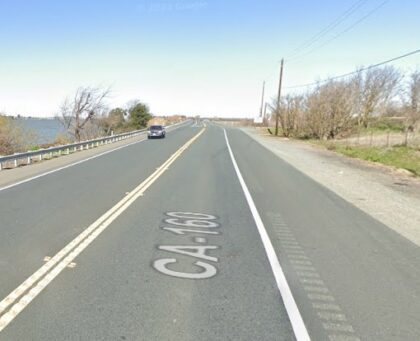 One person was killed after a multi-vehicle crash in Rio Vista on Thursday, March 9, 2023.
According to authorities, the collision occurred on State Road 160 near Brannan Island Road.
Reports stated that an unknown male driver, between the ages of 23 and 26, was driving a Nissan sedan northbound when he swerved to the left and side-swiped a box truck traveling southbound.
The Nissan then continued northbound in the southbound lane before colliding with a Ford pickup truck head-on.
As a result, the Nissan driver sustained severe injuries and died at the scene.
Officials later confirmed that no other injuries had been reported.
It is not believed that alcohol or drugs played a role in the accident.

Fatal Multi-Vehicle Crash Statistics
The NHTSA estimates that over 5.2 million police-reported car accidents occurred in the United States by 2020. Thirty percent (1.6 million) of these crashes resulted in injuries, while less than one percent (35,766) resulted in fatalities.
Fatal crashes increased by 6.8 percent between 2019 and 2020, with a fatality rate of 1.34 deaths per 100 million vehicle trips in 2020. In 2020, the injury rate for 100 million vehicle miles traveled decreased 6.0 percent to 79 injuries per 100 million.
In traffic accidents, 67% of the victims are drivers, 24% are passengers, 4% are motorcyclists, 3% are pedestrians, and 2% are pedal cyclists.
A multiple-vehicle crash occurs when three or more vehicles collide. After an accident, up to six cars may become entangled in the wreckage.
Unlike traffic accidents, multi-vehicle accidents usually result in fatalities, serious injuries, and property damage. Losing control or having poor situational awareness could result in injuries to those nearby. Most collisions of this type are more likely to occur.
How Do I Obtain a Police Report After an Accident?
You can obtain a police report for this accident by contacting your local police department. Your local police department can provide information about getting a copy of the word. We will gladly provide you with a copy of your police report if the police department can't provide one. We offer an online form for this purpose.
Once we receive your request, we'll begin the claims process without requiring any upfront payment. As part of this process, we will work with you to gather all the necessary documentation and information.
Award-Winning Car Accident Attorneys in Rio Vista
The victims may be entitled to compensation if a careless driver causes an accident. California, like most other states, requires liability insurance.
Injury victims may seek compensation for economic losses (such as medical and unpaid bills) and emotional distress.
You can rely on our Rio Vista car accident attorneys at Arash Law, led by Arash Khorsandi, Esq., who have handled similar cases for many years. Over $400 million has been recovered for our clients through our efforts.
Car accident victims can consult with us free of charge and have their cases evaluated. We place the needs of our clients above everything else, and we ensure they are fairly compensated.
Fill out our website's "Do I Have a Case?" link or dial (888) 488-1391 to schedule a free legal consultation appointment.