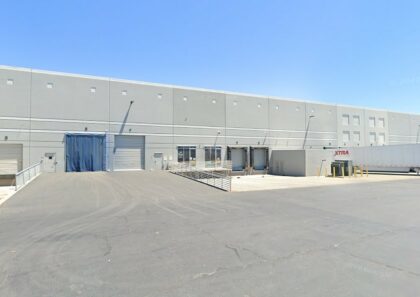 One Peet's employee was killed and another was injured when the roof of a distribution center for Peet's Coffee partially collapsed in Oakland on Friday morning, March 10, 2023.
According to the Oakland Fire Department, the fatal workplace incident occurred just before the morning shift, at about 3:20 a.m. at 650 85th Avenue, near Railroad Avenue, south of Ring Central Coliseum.
The building leased to Peet's and used by other coffee companies is a massive distribution warehouse. The responding crews learned that a 30-by-30-foot triangular roof section had collapsed after heavy rains. The debris fell directly into the victim sitting below, killing him at the scene.
The man had been working in the company for 17 years. A woman was also sent to the hospital with minor injuries. No further details on their identities were immediately available.
City records revealed that the property owners submitted a request to replace the roof two years ago. Whether that was granted or not is not immediately known.
The building is currently closed and red-tagged, so only emergency crews and investigators can enter. OSHA officials are looking into the workplace tragedy.

Workplace Accident Statistics
Every year in the Golden State of California, tens of thousands of workers sustain injuries on the job. Data from the California Department of Industry Relations shows that in a single year, the private sector was responsible for 78 percent of the state's 466,000 non-fatal workplace injuries.
There were 376 fatal occupational injuries reported in California during the year 2017. Even though this is a welcome improvement from previous years, it is still too many workplace fatalities for both the victims and the company to handle.
What to Do After a Workplace Accident
For the injured, get yourself to a hospital immediately. You don't need your employer's permission in an emergency. For everyone involved, especially the deceased's family, let the employer know about your injuries as soon as possible, preferably within the 30-day window; we can't stress this enough. Then, follow up on the claim. Always check whether or not your employer has filed a workers' compensation claim on your behalf.
Find a lawyer who specializes in workplace accidents and workers' compensation. Consult an experienced workers' compensation attorney as soon as possible if you have suffered serious injuries, if your employer has refused your claim, or if you face any other difficulties filing for workers' compensation.
Workers' Compensation Lawyers in Alameda County
A California worker with an injury while on the job may be entitled to compensation under the state's workers' compensation law. Regardless of who was to blame, benefits under a worker's compensation policy will be paid. Injuries resulting from "horseplay" or similar carelessness are not covered by this policy.
The tactic enables victims to recoup expenses related to medical care, time away from work, and disability compensation without proving that their employer or anybody else was at fault. In the event of a claim, our skilled lawyers will represent you, fighting for the most favorable outcome possible while protecting your rights (or taking your case to court if needed).
Our trusted Alameda County Workers' Compensation attorneys at Arash Law, led by Arash Khorsandi, Esq., have extensive experience advocating for accident victims, with awarded compensation totaling $400 million. Call (888) 488-1391 now or click the "Do I Have a Case?" on our website to set up a free consultation with one of our attorneys.