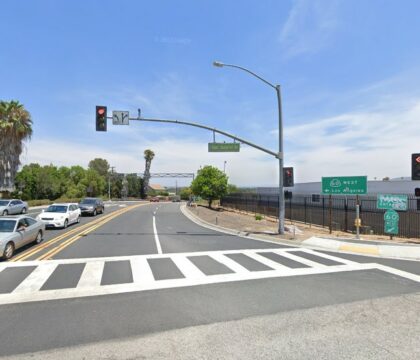 One man was killed following a multi-vehicle collision involving a semi-truck in Rosemead on Friday morning, March 10, 2023.
According to the California Highway Patrol, the fatal crash occurred around 4:53 a.m. on the westbound Pomona (60) Freeway at San Gabriel Boulevard.
The circumstances that led to the collision are unclear at this point. It reportedly involved a gray SUV, another car, and a semi-truck that obstructed the highway's left lane.
At the scene, one unidentified man was declared dead. It remained unknown how many people were involved and if other injuries were sustained.
The freeway was covered with debris. All westbound lanes were shut down until 7:00 a.m. while the investigation ensued.

Truck Accident Statistics
Drivers and passengers in trucks are safer in the event of an accident than they would be in a car or other smaller vehicle. That's why it stands to reason that people riding in smaller cars are more likely to sustain life-threatening injuries or even death in a collision. A single truck collision could have catastrophic results.
There were 4,965 fatalities in the United States from heavy truck accidents in 2020, said the National Highway Traffic Safety Administration. The number of fatalities dropped by 5% from 2019's 5,032. However, trucks are the primary cause of 71% of traffic-related fatalities in the United States.
In the year 2020, 8.9 percent of all vehicles involved in fatal accidents in the United States were large trucks. In 2015, truck-car accidents in California claimed the lives of at least ninety individuals. Only two other states, Texas and Florida, had truck-related fatalities of fifty or more people that year.
What to Do After a Truck Accident
Call 911 immediately if you or a loved one has been in a truck accident. It's important to tell the truth while talking to the police or your insurance company and avoid making assumptions. It's possible that some victims will feel compelled to apologize, even though they had no part in what happened. An insurance company can choose not to pay out on a claim with such behavior being used as evidence against it.
Just requesting it from the relevant authorities will get you a copy of the final report. You can also reach out to us via this page's contact form. As soon as the report arrives, we'll begin working on your request. In a free consultation, our well-known attorney can advise you on how to get the most out of your insurance policy.
Truck Accident Lawyers in Los Angeles County
Victims of truck accidents in the state of California can file a civil case to seek compensation for their medical bills, lost wages, and other non-economic losses. If you have any questions about filing an insurance claim or would want to talk with one of our knowledgeable attorneys about the possibility of us helping you obtain a fair payment, please contact us.
Our trusted Los Angeles County truck accident lawyers at Arash Law, led by Arash Khorsandi, Esq., have extensive experience and accolades advocating for accident victims, with awarded compensation totaling $400 million. Call (888) 488-1391 now or click the "Do I Have a Case?" on our website to set up a free consultation with one of our attorneys.