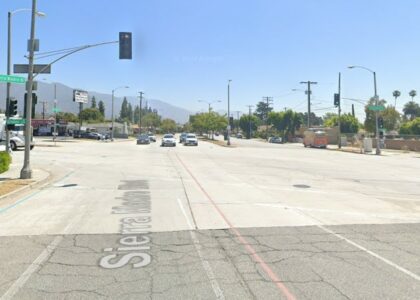 A woman was injured after her vehicle got rear-ended by a male driver in Pasadena on Friday afternoon, March 10, 2023.
According to the Pasadena Police Department, the crash occurred at about 1:56 p.m. at the Sierra Madre Boulevard and Altadena Drive intersection.
The woman was reportedly stopped for a red light at the intersection when 58-year-old David S. from Pasadena intentionally rear-ended her vehicle. When she pulled over, the driver repeatedly rammed his vehicle into hers before leaving the scene.
He was arrested shortly later after causing a disturbance at a nearby business. The police identified his vehicle, and the woman identified him as the person who purposefully slammed her car.
Paramedics from Pasadena Fire Department treated the female driver for mild back pain, but she was not taken to a hospital for further care. Her car had relatively minor damage.
Sinatra was detained on a $30,000 bond after being arrested on accusations of assault with a deadly weapon. The investigation continues.

Reckless Accident Statistics
Careless drivers in the United States cause hundreds of deaths and thousands of injuries every year. The National Highway Traffic Safety Administration describes reckless driving as a "willful disregard" for the safety of other drivers in the roadway.
It's difficult to calculate how many traffic-related accidents are solely caused by reckless driving every year. Nonetheless, between 2003 and 2007, the AAA discovered that reckless driving was a factor in 56% of all traffic accidents.
According to the data that is collected on an annual basis, excessive speed is one of the leading causes of fatal automobile accidents in the United States.
What to Do After a Car Accident
If you or a loved one has been in a car accident, dial 911 immediately. You must always tell the truth and never make assumptions while interacting with law enforcement or insurance firms. Despite their innocence, some victims may try to apologize. The insurance company can decide not to pay out if the victim keeps acting this way.
You can get a copy of the final report by properly requesting it from the appropriate agencies. If you need to get in touch with us right away, please use the simple web form on this page. We promise to get to work on your request the second we get it. Please feel free to contact our highly renowned attorney for a free, no-obligation consultation if you have any questions about maximizing your claim's value.
Reckless Accident Victim Lawyers in Los Angeles County
The relatives of the victim may be able to sue the driver who caused the accident if he or she dies or is seriously injured. Don't wait to get in touch with a personal injury lawyer in California if you're ever hurt in an auto accident that wasn't your fault.
Our award-winning Los Angeles County reckless accident lawyers at Arash Law, led by Arash Khorsandi, Esq., have years of experience in advocating for accident victims, with granted compensation totaling $400 million so far. Contact (888) 488-1391 or click the "Do I Have a Case?" on our website to schedule a free consultation with one of our lawyers.