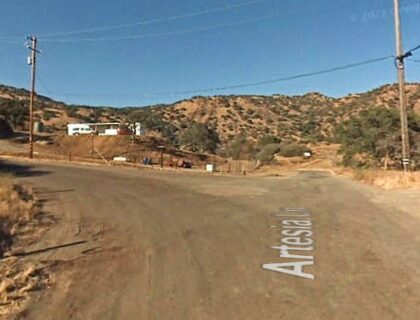 A 22-year-old woman was killed while her 18-year-old passenger was injured after a quad they were riding crashed into a boulder in Fresno County on Saturday afternoon, March 11, 2023.
According to the California Highway Patrol, the fatal single-vehicle crash occurred at about 4:17 p.m. on Deerbrook Lane and Artesia Lane in Yokuts Valley, formerly known as Squaw Valley.
The victims were both riding a quad in a dirt field when they crashed into a boulder. It's unclear whether the boulder was there earlier due to the weather.
The woman was declared dead at the site, while her 18-year-old passenger was transported to a nearby hospital after sustaining major injuries.
Both riders were reportedly not wearing helmets. No further details were released on their identities and the passenger's current condition.
As further investigation continues, there is no evidence linking the crash to drugs or alcohol.

Fatal Single-Car Accident Statistics
According to the National Safety Council, in 2020, the major causes of unintended death and serious injury on the road in the United States were speeding, intoxicated driving, and not using safety measures like seatbelts.
The US death rate rebounded by 8.3% in 2020, following a 3-year decline. There were 42,338 recorded fatalities due to automobile accidents in 2020, up from 39,107 recorded deaths in 2019.
Over 4.8 million people in 2020 went to hospitals after being hurt in automobile collisions. Around $473.2 billion has been allocated to treat those who have been harmed as a result of automotive accidents. Lost wages, travel expenses, medical bills, office fees, vehicle maintenance, and other charges could add up.
What to Do After a Car Accident
Don't hesitate to call 911 if you or a loved one has been involved in an automobile crash. When dealing with law enforcement or insurance companies, you must always tell the truth and never make any assumptions. Some victims, albeit totally blameless, may strive to make amends. If the victim continues in this manner, the insurance company may refuse to pay out.
A copy of the completed report can be obtained by formally requesting it from the relevant authorities. Please use the brief online form on this page if you need to contact us immediately. The moment we receive your request, we will start working on it. If you have questions about maximizing the value of your claim, our widely regarded attorney is available for a no-obligation consultation.
Car Accident Lawyers in Fresno County
If you or someone you love has been hurt in a car accident and you think you may have a case for personal injury or wrongful death, don't wait to call us for a free consultation. We encourage you to get in touch with us if you have any concerns about filing an insurance claim or would like legal advice before doing so.
Our trusted Fresno County car accident lawyers at Arash Law, led by Arash Khorsandi Esq., have the recognition and vast experience to advocate for accident victims, with awarded compensation totaling $400 million as of yet. Contact (888) 488-1391 or click the "Do I Have a Case?" on our website to schedule a free consultation with one of our lawyers.