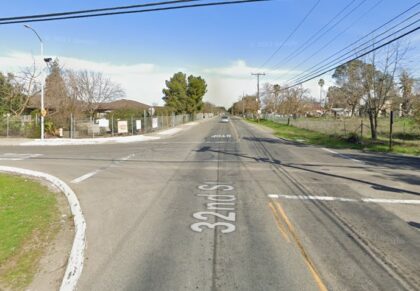 A woman was killed after getting caught between a truck and a concrete wall in Sacramento County on Saturday night, March 11, 2023.
The California Highway Patrol reported that the crash occurred shortly before 6:00 p.m. at 32nd and I streets in North Highlands.
The woman was reportedly in a private parking lot when a truck nearby rolled back, trapping her between the wall and the driver's side door.
The victim sustained major injuries to her abdomen and was declared dead at the site. Responders from Sacramento Metro Fire attempted life-saving measures but she ultimately succumbed to her wounds.
The woman's husband was reportedly at the scene and was unharmed. No further details on their identities were released.
As the investigation continued, no other information on the driver of the truck was immediately available.

Fatal Pedestrian Accident Statistics
According to statistics provided by the Governors Highway Safety Association, the number of people killed in car accidents decreased by 14% between 2007 and 2016. During that same time span, however, there was a 27% rise in pedestrian fatalities. It appears from these rates that taking a stroll around American streets is becoming increasingly dangerous.
According to the statistics, 5,977 pedestrians lost their lives in the United States in 2016. As many as 88 people were dying per minute by the end of that year. More than 137,000 people needed medical assistance in 2017 after being hurt while walking as a result of an accident involving a motor vehicle.
In 2012, 893 pedestrians were killed and almost 14,000 were injured in California. Statistics show this is the leading cause of injury for pedestrians in the Golden State.
What to Do After a Pedestrian Accident
In the event that you or a loved one are involved in a pedestrian accident, dial 911 immediately. Stick to the facts and don't make any assumptions while speaking with authorities or an insurance company.
Even though they had nothing to do with the tragedy, some victims may nonetheless feel responsible. The insurance provider may decide not to pay out if you behave in this way.
A copy of the final report can be obtained by making a formal request to the relevant authorities. In addition, a short online form is provided for your convenience on this page. We will go right to work on your request once we've received the report. Our highly regarded attorney is ready for a no-obligation consultation if you have concerns about making the most of your insurance coverage.
Pedestrian Accident Lawyers in Sacramento County
In California, pedestrians have the same rights as drivers, passengers, and riders in the case of a collision. If you or a loved one were hurt in an auto accident that wasn't your fault, you might be able to file a lawsuit against the at-fault driver.
Our trusted Sacramento County pedestrian accident lawyers at Arash Law, led by Arash Khorsandi, Esq., have extensive experience and accolades advocating for accident victims. Our clients have been awarded compensation totaling $400 million.
Call (888) 488-1391 now or click the "Do I Have a Case?" on our website to set up a free consultation with one of our attorneys.