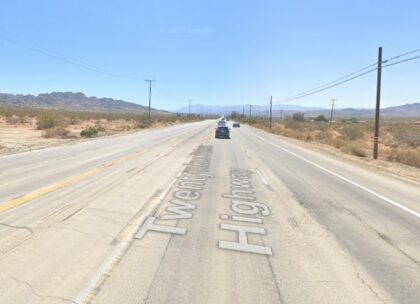 A two-vehicle crash killed one person and injured three others in Twentynine Palms on Saturday afternoon, March 11, 2023.
Reports confirmed that the collision transpired around 12:20 p.m. on Twentynine Palms Highway near Sunview Road.
Authorities stated that a Nissan Rogue driven by a 45-year-old female from Palo Alto was stopped on the right shoulder, and a 47-year-old male from Switzerland was also in the Nissan's passenger seat.
A Ford F-250 was driving eastbound when the Nissan turned left from the shoulder of the road in front of the Ford. As a result, the Ford's front collided with the Nissan's left side.
The Nissan driver was pronounced dead at the scene of the accident. The Nissan passenger was taken to Desert Regional Medical Center with serious injuries.
The 68-year-old Ford driver, Michael R. of Wisconsin, and his 67-year-old female passenger suffered moderate injuries and were taken to Hi-Desert Medical Center.
The deceased victim's identity is withheld until her next of kin is notified.
Officials are investigating the incident's cause, though drugs and alcohol do not appear to be a factor.

Fatal Two-Vehicle Crash Statistics
As per the Fatality Analysis Reporting System, there were 35,766 motor vehicle fatalities in 2020, resulting in 38,824 deaths. There are 11.7 fatalities per 100,000 people and 1.34 per 100 million kilometers driven.
Compared to 2020, California was expected to have 4,258 road fatalities in 2021, an increase of 3847.
Speeding, drunk driving, or texting while driving constitute the majority of car accidents. Various factors, weather conditions, road design, and automotive problems, can cause accidents.
Traffic accidents are estimated to cause significant financial losses to individuals, their families, and governments. In addition to reducing productivity, these expenses result in missed work or school and raise medical bills.
Keep a reasonable distance between vehicles before and behind you to protect yourself and other road users, and obey traffic laws. Traffic accidents still result in many deaths despite these precautions.
How To Obtain a Police Report Following an Accident
Obtaining a police report for this accident can be done by contacting the local police department.
The police department can provide information about getting a copy of your report. You may submit a request to us if you need help obtaining your report directly from the police department. Our online form can be filled out to do this.
As soon as we receive your request, we will begin the claims process without charging you anything upfront. We will work closely with you throughout this process to obtain all necessary documentation and information.
Reliable Car Accident Lawyers in Twentynine Palms
Life-threatening injuries sustained in a car accident can lead to medical debt and extended absence from work. In addition to physical pain and psychological distress, victims may experience emotional trauma.
Compensation claims are time-consuming and labor-intensive to process. It is imperative to seek legal counsel under pressure from an insurance company. A recorded testimony can make the negligent party appear less accountable for their actions, affecting your case.
You can count on our Twentynine Palms car accident attorneys at Arash Law, led by Arash Khorsandi, Esq., to immediately investigate the accident. We use time-tested legal procedures with insurance carriers to ensure that damages are adequately assessed throughout the settlement.
We have recovered $400 million in client claims in the last few years. With our ten years of experience as a well-established law firm, you can rely on us for legal guidance.
To schedule a free consultation, dial (888) 488-1391 today or click the "Do I Have a Case?" link on our website.