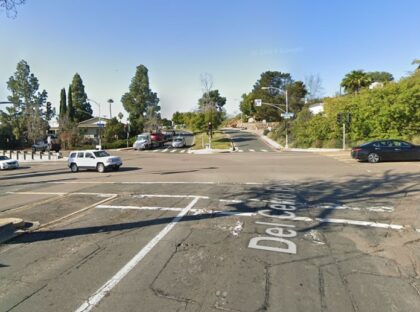 A 63-year-old man suffered a head injury after a vehicle struck him in San Diego on Saturday afternoon, March 11, 2023.
According to authorities, the collision occurred around 5:00 p.m. in the 6300 block of Del Cerro Boulevard.
Reports stated that the pedestrian was walking along the north sidewalk when an orange 2016 BMW I-3 approached a driveway leading from the Windmill Farms parking lot.
The victim walked across the driveway, and the 23-year-old BMW driver saw him walking in front of his car and waiting.
The driver initiated his right turn too quickly and collided with the pedestrian with his right front end.
The man suffered a skull fracture and brain bleed after falling and hitting his head on the sidewalk.
DUI is not suspected of having played a role in the incident. Authorities are still investigating the crash.

Pedestrian Accident Statistics
According to a report from the Governors Highway Safety Association, there were 7,485 pedestrian fatalities in 2021, a record number in 40 years.
The proportion of pedestrian deaths caused by speed increased from 7.2% in 2019 to 8.6% in 2020. Speed has a significant impact on pedestrian safety. With increased vehicle speed, pedestrian fatalities increase from 10% at 23 to 90% at 58 mph.
There are estimated to be more pedestrian fatalities and collisions in California than in any other state. Over 893 pedestrians were killed and over 14,000 injured in 2012 in the state.
Pedestrians should always use sidewalks, avoid drugs and alcohol, and cross parking lots and driveways cautiously. Taking these precautions will reduce their chances of being injured in an accident.
What Should I Do Following an Accident?
You should file a police report after collecting information, assuming that it is safe to do so. Through this, the police can keep information about what happened during the accident in one central database, keep those records on file within the police department, and ensure that the data is held securely.
It is common for the police to attend an accident in any event, but if they do not, you can contact the local police and file the accident report afterward. This way, if the police are not at the collision scene, they can collect the information themselves, and a police report will be issued later.
Pedestrian Accident Lawyers in San Diego
Even when there is no need for a crosswalk, pedestrian safety should always come first. Vehicles that collide with pedestrians must always yield the right of way. It may be necessary to question the responsible party if there is reason to believe a law has been broken.
Injured parties may sue for monetary and non-monetary damages, including pain and suffering.
In addition to providing sound legal guidance, we are committed to achieving a satisfactory outcome on your behalf and ensuring you are adequately compensated for your losses.
Our San Diego pedestrian accident lawyers at Arash Law, led by Arash Khorsandi, Esq., prioritize the needs of their clients above all else. We work hard to get you back to your routine as soon as possible after a serious pedestrian accident.
Contact us at (888) 488-1391 or fill out our online "Do I Have a Case?" form to learn more about your legal options.