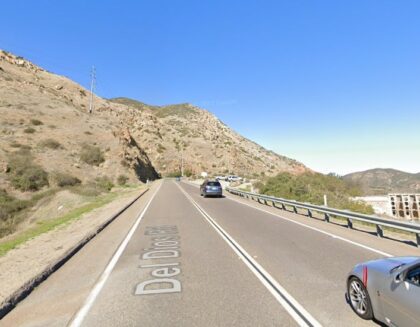 Two people suffered critical injuries following a two-vehicle collision in Escondido in the North County Region on Saturday morning, March 11, 2023.
The Rancho Santa Fe Fire Protection District reported that the crash occurred at about 11:04 a.m. at 8899 Del Dios Road, near the Lake Hodges Dam.
One adult male from one of the vehicles and one adult female from the other were transported to a nearby Palomar hospital in unknown conditions. One of the victims had to be extricated. Neither was identified.
The crash briefly closed the roadway before it was reopened to traffic. The circumstances that led to the crash remain under investigation by the California Highway Patrol.
The San Diego County Sheriff's Department provided assistance to the fire crews during the rescue operation.

Two-Vehicle Accident Statistics
Most unintentional deaths and injuries in the United States occur as a result of motor vehicle collisions. Moreover, more than two million people die and ten million are injured every year due to automobile accidents.
The National Safety Council reported that traffic-related fatalities in the United States increased by 8.3 percent in 2020, reversing a declining trend that had been present for the prior three years. There have been 39,107 fatalities due to car crashes in 2019. That number increased to 42,338 by the year 2020.
There were 3,847 fatalities in California car accidents in 2020. Most of the fatalities (2,260 or 59%) involved only a single vehicle, while almost half (1,587 or 41%) included several vehicles.
What to Do After a Car Accident
Get in touch with emergency services at once if you or a loved one are involved in a car crash by calling 911. Be as factual as possible when communicating with law enforcement or the insurance company and avoid making assumptions. Although they had no part in bringing about the incident, some victims may feel they must apologize. Insurance companies may use this as grounds for denying your claim.
You can request a copy of the final report by contacting the relevant authorities. You can also fill out the provided online form on this website.
As soon as we receive the report, we will begin working on your request. If you have any concerns or questions about making the most of your insurance, our renowned attorney is available to speak with you at no cost.
Car Accident Lawyers in San Diego County
Car accident victims or those who have lost a loved one in a collision are entitled to a free consultation with a local personal injury or wrongful death attorney. Whether you need help making a claim or just want to talk to an attorney about your situation, don't hesitate to contact us.
Our trusted San Diego County car accident lawyers at Arash Law, led by Arash Khorsandi Esq., have the recognition and vast experience to advocate for accident victims, with awarded compensation totaling $400 million as of yet. Contact (888) 488-1391 or click the "Do I Have a Case?" on our website to schedule a free consultation with one of our lawyers.