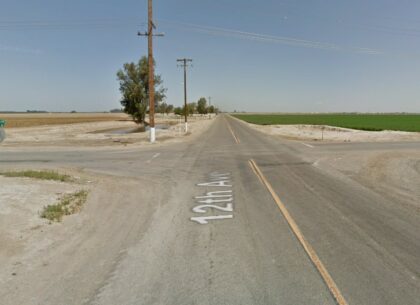 One person suffered severe injuries after a two-vehicle collision in Hanford on Sunday night, March 12, 2023.
According to authorities, the crash occurred around 7:56 p.m. on 12th Avenue near Kent Avenue.
Reports indicated that an ambulance and a car collided for unknown reasons, causing one of the vehicles to roll over.
Firefighters and medics rushed to help at least one person severely injured in the collision.
The patient was transported to a medical facility for further treatment.
The cause of the crash is being investigated.

Two-Vehicle Collision Statistics
The NHTSA Fatality and Injury Reporting System Tool report 38,824 traffic-related deaths nationwide. The number of fatalities has increased since 2007.
Traffic fatalities in the United States have increased dramatically in recent years. Car accidents claim the lives of one million people every year. Every day, 3,287 people are killed in these collisions.
Car accidents cause 20 to 50 million non-fatal injuries yearly, many resulting in long-term disabilities. Over the past few years, it has been responsible for 8% of all fatal accidents in California.
Traffic accidents cause significant financial losses to individuals, their families, and nations. Due to these costs, workers or students lose time from work or school, productivity is decreased, and medical expenditures are increased.
You should maintain a safe distance between cars ahead and behind you, avoid potential hazards, and obey traffic laws to stay safe on the roads. Despite traffic safety measures, fatalities are expected to occur in traffic accidents.
How To Get a Police Report After an Accident in California
The California Department of Motor Vehicles (DMV) requires every driver to report accidents within ten (10) days of the accident if there are injuries, fatalities, or property damage of $1,000 or more. Section 20008 of the California Vehicle Code mandates drivers to report crashes resulting in injuries or deaths to the California Highway Patrol or the responding police department within 24 hours.
Reports can be submitted to the California Highway Patrol and the Department of Motor Vehicles in two ways:
It is usually necessary to call the police when an incident occurs. The police will file a report, conduct an investigation, and submit the report to the DMV and CHP on your behalf.
You can file the report with the DMV and CHP yourself. You must fill out the forms and mail them to the correct offices as soon as possible.
Trusted Car Accident Attorneys in Hanford
California car accident victims may be entitled to compensation for their losses (including pain and suffering, lost wages, and medical expenses).
To maximize the financial compensation from your case, our attorneys will explain the steps you must take and the issues you must avoid during your initial consultation.
You can count on our Hanford car accident attorneys at Arash Law, headed by Arash Khorsandi, Esq., who are dedicated to defending accident victims in court. Our clients have received over $400 million in compensation.
Dial (888) 488-1391 today or visit our website and click on the "Do I Have a Case?" link to schedule a free consultation with one of our attorneys.