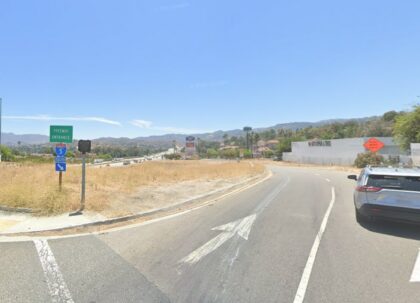 A single-vehicle crash injured and ejected one child in Santa Clarita on Sunday afternoon, March 12, 2023.
Reports confirmed the collision occurred around 1:17 p.m. on the southbound 5 Freeway north of Lyons Avenue.
According to authorities, they received reports of the crash and discovered that a car flipped onto its backside, blocking the Freeway's #1 lane.
Responders found that a child was ejected from the vehicle and suffered road rash wounds.
The victim was transported to a hospital in an unknown condition.
Traffic on the southbound 5 Freeway was stopped while the scene was cleared.
A tow truck worked to tow the car on its back, and officers continued to direct traffic through the outside lanes.

Single-Vehicle Crash Statistics
Single-vehicle crashes account for more than 60% of all auto accident fatalities, a 9.4% increase from 2019 to 2020. A total of 43% of the participants sustained injuries. Several of these accidents are caused by speeding, drunk driving, and a lack of passenger safety.
Among all causes of death, traffic accidents are the eighth leading cause, causing the most worldwide deaths among children and teenagers.
In 2020, 1.37 fatalities per 100 miles were driven in the United States. A comparison with the previous year shows an increase of 18.4% in road deaths in the first quarter of 2021.
Several factors may cause a single-vehicle collision. In a run-off-the-road accident, a driver loses control of their vehicle after speeding or making sudden maneuvers on a wet, slick road.
Streets may be littered with branches or fragments of objects left by trucks.
You can reduce the risk of these occurrences by wearing a seatbelt, remaining vigilant, and avoiding distractions while driving. Traffic accidents still occur even with safeguards in place.
What To Do Following an Accident
You can obtain a police report for this accident by contacting the local police department. The police department can provide you with the necessary information about receiving a copy of your report. We can provide you with a copy of your report if you need help obtaining one directly from the police department. Our online form can be filled out for this purpose.
After receiving your request, we will begin the claims process for you without charging any upfront fees. You will work with us until all documents and information regarding your claim have been obtained.
Award-Winning Car Accident Lawyers in Santa Clarita
Car accidents can cause severe physical and psychological harm. In addition to expensive hospital and medical care, a lengthy legal process may be involved. Things frequently go wrong in these scenarios.
You should always consult an attorney if you have been injured in a car accident. A legal expert should be consulted immediately after a traumatic experience. The earlier you file a claim, the better your chances of successfully defending your legal rights.
Our Santa Clarita car accident lawyers at Arash Law, led by Arash Khorsandi, Esq., can help you pursue the fair settlement you deserve. Over the years, our firm has handled similar cases and recovered millions of dollars in damages.
By working on a contingency fee basis, our legal team will ensure you receive compensation for your losses without incurring any out-of-pocket expenses.
For a no-obligation consultation, call us today at (888) 488-1391 or contact us by using our "Do I Have a Case?" link.