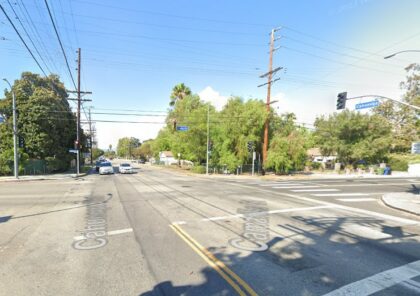 A man was killed while a woman was hospitalized following a two-vehicle collision in North Hollywood, Los Angeles, on Sunday morning, March 12, 2023.
According to the Los Angeles Police Department, the fatal crash occurred shortly after 4:00 a.m. at the intersection of Cahuenga Boulevard and Camarillo Street.
The 32-year-old male driver was reportedly traveling north on Cahuenga when he collided with another vehicle traveling east on Camarillo. The crash caused the man's car to roll over before it struck a traffic light, a fence, and an unspecified property.
The man was partially thrown from his car due to the impact. He was declared dead at the site. The female driver in her 30s in the other car sustained unspecified injuries and was sent by paramedics to a hospital.
No further details on their identities and the woman's current condition were immediately available as the investigation continued.
It is unknown whether speeding or intoxication played a role in the deadly collision.

Fatal Two-Vehicle Accident Statistics
Auto accidents are the leading cause of accidental death and injury in the United States. Furthermore, automotive accidents account for nearly two million deaths and ten million injuries annually the whole world over.
The National Safety Council reported an 8.3 percent increase in traffic-related fatalities in the United States in 2020, reversing a three-year downward trend. There were 39,107 people killed in motor vehicle accidents in 2019. By 2020, that had risen to 42,338.
As of 2020, 3,847 people had lost their lives in car accidents throughout the state of California. Of the total number of fatalities, the vast majority (2,260 or 59%) involved only a single vehicle, while nearly half (1,587 or 41%) involved two or more cars.
What to Do After a Car Accident
In the unfortunate event that you or a loved one are involved in an automobile accident, it is imperative that you immediately dial 911. Be as factual as possible when speaking with police enforcement or the insurance company and avoid forming assumptions. Some victims may feel remorseful despite having played no role in the incident. This behavior may be used against you and your claim by the insurance company.
By contacting the proper authorities, you can obtain a copy of the completed report. You may also use the online form on this page. When we have the report, we'll go to work on your request right away. You can have a consultation with our well-respected lawyer at zero fees if you have any issues or questions about getting the most out of your insurance policy.
Car Accident Lawyers in Los Angeles County
Our law firm provides a no-cost initial consultation with a reputed local personal injury or wrongful death counsel for anyone who has been injured or lost a loved one in a car crash. Don't hesitate to get in touch with us whether you need assistance filing a claim or simply want to discuss your options with an attorney.
Our trusted Los Angeles County car accident lawyers at Arash Law, led by Arash Khorsandi Esq., have the recognition and vast experience to advocate for accident victims, with awarded compensation totaling $400 million as of yet. Contact (888) 488-1391 or click the "Do I Have a Case?" on our website to schedule a free consultation with one of our lawyers.