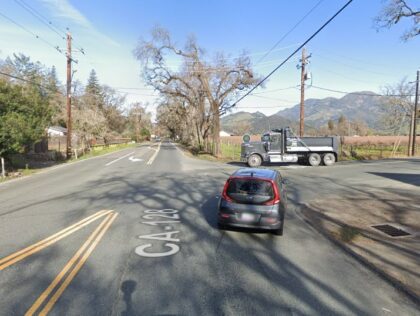 Four people were injured, including a 32-year-old driver, identified as Megan T., after a two-vehicle crash in Calistoga on Sunday afternoon, March 12, 2023.
According to authorities, the collision transpired around 5:07 p.m. on Highway 128 near Tubbs Lane.
Reports indicated that the 32-year-old female driver was driving eastbound in a 2020 Honda CR-V when she collided head-on with an approaching 2020 Hyundai Palisade under unknown circumstances.
Medics rushed to the scene to assist the SUV driver and an 8-year-old female passenger. Both victims were taken to Napa's Queen of the Valley Medical Center with serious injuries.
Two occupants in the Hyundai were also hospitalized with severe injuries.
Due to the collision, authorities closed a portion of Highway 128.
Further investigations on the cause of the crash are currently underway.

Two-Vehicle Crash Statistics
The Fatality Analysis Reporting System Research shows 35,766 people died in car accidents in 2020. The deaths per 100 million miles traveled was 1.34, or 11.7 per 100,000 people.
It is estimated that unintentional injuries are the leading cause of death for people ages 1 to 44 in the United States. There is a car accident every minute, for instance. Annually, these cause two million deaths and one million injuries.
Car accidents killed 23.5% more Californians in 2014 than in 2013. During 2017, there were 4,876 777 auto accidents reported, which led to 38988 people getting killed, and 276,823 suffering injuries.
In 2018, nine people died on the state streets for every 100,000 residents.
Safe driving means maintaining a safe following distance and traffic laws and keeping yourself and other road users safe. Despite these precautions, fatal car accidents still occur frequently.
How To Obtain a Police Report After an Accident
We can help you obtain a police report after an accident.
All we need is information about what happened and where it occurred. Our team will contact the relevant parties and get you all the necessary information.
As part of our services, we handle this process for each client, so you don't need to worry about whether your insurance will cover damage or injuries – we'll guarantee that everything is covered!
Reputable Car Accident Attorneys in Calistoga
Following an accident, you may be entitled to compensation for medical bills, lost wages, and emotional distress. Legal representation could help you claim damages after a car accident in California.
You can rely on your legal counsel to help you defend and resolve all legal matters during this stressful time. In addition to preparing and filing legal paperwork, they will maintain an up-to-date case file and represent you when dealing with insurance companies.
Our reputable Calistoga car accident attorneys at Arash Law, led by Arash Khorsandi, Esq., have a solid reputation and years of experience representing accident victims. Our clients in California have received $400 million in compensation.
To schedule a free consultation with our legal team, call us today at (888) 488-1391 or go to our website and click on the "Do I Have a Case?" link.