One unidentified person was injured after a bicycle crash in Santa Clarita on Sunday afternoon, March 13, 2022.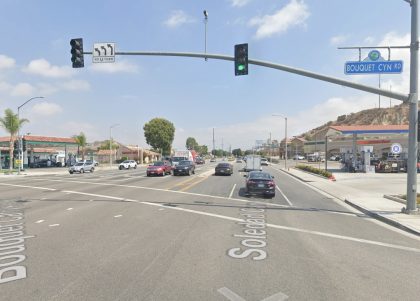 The accident happened at approximately 2:00 p.m. at the intersection of Bouquet Canyon Road and Valencia Boulevard.
A bicycle rider was struck by an unspecified vehicle under unclear circumstances. How the accident occurred and why it happened have not been established.
Emergency personnel arrived at the scene and found the rider on the roadway with his dented bicycle. He received treatment on the scene for minor injuries.
Additional information about the accident is limited at the moment. The identities of the involved parties have not been disclosed.
Local authorities are further investigating the case.


Bicycle Crash Statistics
In 2019, 843 bikers were killed in car-bike collisions. This is a 3% decrease from the 868 bikers murdered last year. Bicyclist deaths have increased 36 percent since their lowest point in 2010, despite a 16 percent decline since 1975.
Bicycle accidents are widespread in urban areas, where cars and bicycles interact the most. Cars colliding with bikes are the most common cause of bicyclist injuries and deaths in the state.
Today, Californians continue to lead the nation in fitness and activity, and cycling is one way to stay fit. Cycling is a fun way to get around, but it is also good for the environment and your wallet. Sharing the road with automobiles, on the other hand, can be dangerous, and bicycle accidents can result in serious or fatal injuries.
In a 2016 Benchmarking Report, The Alliance for Biking and Walking reported that California is ranked fourth in the United States for commuters on bicycles. For fatalities, the National Highway Traffic Safety Administration (NHTSA) reported that California ranked number one in 2013 with 141 deaths.
Many of these occurrences occurred because the driver failed to yield the right of way, failed to check for bikes before pulling out, ran a stop sign or red light, or was otherwise distracted while driving. It is not always possible to avoid an automobile accident when a driver acts negligently or recklessly.
Los Angeles County Bike Accident Lawyers for Victims
Bicycle accidents can result in severe injuries that may necessitate months or even years of rehabilitation. This can result in medical expenses and lost wages. Following a bike collision, broken bones, road rash, head, and brain injuries, crush injuries, and organ damage are all typical.
If you or someone you care about was recently hurt in a bicycle accident in California, we could assist you.
Don't put off contacting an attorney after an accident. Regardless of the severity of your injuries, you have the right to consult with an expert Los Angeles bike accident attorney about your compensation options. Your medical expenses, agony and suffering, property damage, and other expenses will almost certainly be reimbursed.
If you or a loved one has been injured in a bicycle accident in Los Angeles, you deserve compensation for your damages. You don't need to have insurance on your bicycle to deserve compensation after a bike accident. Call the Los Angeles bike accident lawyer team at Arash Law at (888) 488-1391, and we'll give you a free case review on your accident.