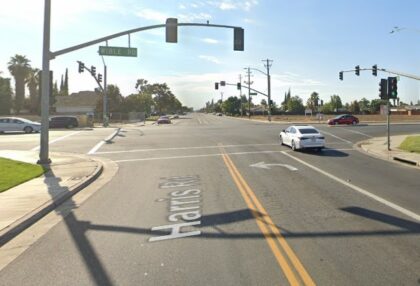 One person was killed after he was struck by a vehicle in south Bakersfield early Monday morning, March 13, 2023.
The fatal crash reportedly occurred around 6:16 a.m. near Harris Road and Wible Road.
According to authorities, the man was crossing the street when he was hit by an eastbound causing the victim to sustain severe injuries.
They discovered the victim lying on the road and pronounced the man dead at the scene. The man's identity is yet to be disclosed.
Meanwhile, the vehicle driver remained at the scene and cooperated with the investigation.
Speed, alcohol, or drugs did not appear to be a factor in the collision. Further investigation is ongoing.
Eastbound Harris Road at Wible Road is closed while the scene is being processed.
Those with information about the crash are asked7 to contact BPD at 661-327-7111.

Fatal Pedestrian Collision Statistics
Pedestrian deaths caused by speed increased from 7.2% in 2010 to 8.6% in 2020. Pedestrian safety is significantly affected by speed. It is estimated that 90% of fatalities occur at 58 mph. As vehicle speed increases, the number of fatalities increases. Speed increases gradually as the vehicle accelerates.
According to the Governors Highway Safety Association, 7485 pedestrian deaths occurred in 2021, the highest record in 40 years.
There were an estimated 5,937 pedestrian fatalities in the United States in 2016. Until the end of the year, eighty-eight people are expected to die per minute. There were at least 137,000 pedestrian injuries in 2017 that required medical attention.
California has the highest number of fatalities and accidents involving pedestrians. In 2012, 893 pedestrians were killed and 14,000 were injured.
It is important to exercise caution when crossing driveways and parking lots. It is imperative that they remain on the sidewalks and abstain from drugs and alcohol. Accident injury risks can be reduced by following these guidelines.
What To Do After an Accident Occurred
Law enforcement should be notified of the collision and a report should be filed. In an interview at the scene of the accident, be truthful about what you witnessed. Make sure your words are clear and avoid making assumptions about things you don't understand.
After an accident, victims often apologize profusely out of anxiety and shock, even if they did not cause it. The insurance company may twist this act of kindness into evidence that you admitted fault.
California's high rate of traffic accidents has injured pedestrians, cyclists, and passengers in vehicles alike. Our skilled lawyers are here to help you regardless of whether you were in a vehicle at the time of the accident. Our goal is to get you the money you're owed under the law while you focus on getting better, and we will keep you informed throughout the process.
Reliable Pedestrian Accident Attorneys in Bakersfield
A pedestrian who is injured or killed in a car accident in California has the same rights as any other victim of personal injury.
Our legal team can assist you in maximizing your insurance claim to secure the highest settlement possible.
You can rely on our reputable Bakersfield pedestrian accident lawyers at Arash Law, headed by Arash Khorsandi, Esq., who have extensive experience representing accident victims. Clients have received compensation totaling $400 million as a result of our efforts.
Call (888) 488-1391 or visit our website's "Do I Have a Case?" section to schedule a free case evaluation with one of our attorneys.