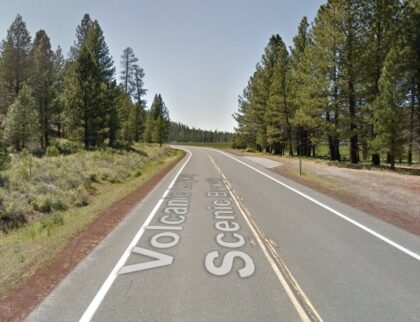 Three people were sent to the hospital after a collision between two big rigs on Highway 44 in Lassen County on Monday morning, March 13, 2023.
According to the California Highway Patrol, who responded with Shasta County Fire, CalFire, and SEMSA, the crash occurred around 5:35 a.m. at Poison Lake.
Baljit S., 59, was reportedly operating a 2020 Freightliner hauling a cargo of paint along with Banjindher S., 35, his passenger. Both of them are from Elk Grove.
The rig jackknifed as it approached an icy curve, struck a snow embankment, and halted in traffic lanes. Roughly 120 gallons of diesel fuel were spilled after the saddle tanks burst.
Shortly thereafter, 54-year-old Tammy T. from New Orleans, Louisiana, driving a 2021 Perterbilt with an empty trailer, entered the curve and struck the Freightliner. The two rigs came to a stop blocking the roadway.
Tammy and Baljit complained of pain, while Banjindher, the passenger, suffered major wounds. They were transported to Banner Lassen Medical Center to receive medical care.
Up until 11:05 a.m., the route was blocked at the intersections of Highway 36, close to Susanville, and Highway 89, close to Old Station. The investigation continued.

Big Rig Accident Statistics
In the case of an accident, truck drivers and passengers are better protected than those in a car or other smaller vehicles. This means that passengers in smaller vehicles are statistically more likely to suffer serious injuries or even fatalities in the event of an accident. The aftermath of two trucks crashing can even be more devastating.
Heavy truck accidents claimed 4,965 lives in the United States in 2020, according to the National Highway Traffic Safety Administration. That was a 5% decrease from 2019's record of 5,032 fatalities. Still, 71% of traffic-related deaths in the U.S. are caused by trucks.
In the United States, heavy trucks accounted for 8.9% of all vehicles in fatal accidents in 2020. At least ninety people lost their lives in truck-car accidents in California in 2015. Only two other states had at least fifty deaths due to trucks that year: Texas and Florida.
What to Do After a Big Rig Accident
If you or someone you love has been in a truck accident, call 911 immediately. It is critical to be truthful and avoid forming assumptions while speaking with authorities or insurance companies. Even if they are innocent, some victims may apologize. The insurance company may decide not to pay out if the victim continues to act in this way.
A formal request must be submitted to the relevant authorities in order to acquire a copy of the final report. If you'd like to fill out a quick online form, you can find one below for your convenience. In the event that the report is received, we will immediately begin processing your request. Our well-respected attorney is ready for a free consultation if you have questions about how to make the most of your insurance benefits.
Big Rig Accident Lawyers in Lassen County
In California, those who have been hurt in truck accidents can bring a civil lawsuit to recover damages for their injuries, lost wages, and other economic and non-economic losses. Contact us if you need advice on filing an insurance claim or want to discuss the potential of having one of our experienced lawyers negotiate a fair settlement on your behalf.
Our trusted Lassen County big rig accident lawyers at Arash Law, led by Arash Khorsandi, Esq., have extensive experience and accolades advocating for accident victims, with awarded compensation totaling $400 million. Call (888) 488-1391 now or click the "Do I Have a Case?" on our website to set up a free consultation with one of our attorneys.