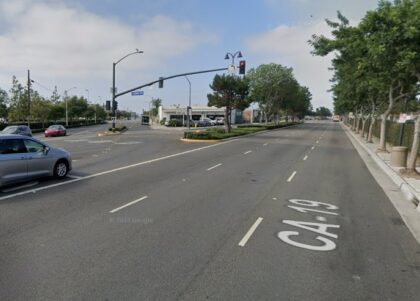 A police officer and another driver were injured following a head-on collision between a white sedan and a patrol SUV in Downey on Monday morning, March 13, 2023.
According to the Downey Police Department, the two-vehicle collision occurred early morning at about 1:45 a.m. at the Columbia Way and Lakewood Boulevard intersection.
The officer was reportedly on duty at that time. What led to the crash remains unclear, but both vehicles sustained heavy front-end damage, with both airbags deployed. The responding Downey firefighters had to extricate an injured man from the wreckage.
The unidentified officer and the 25-year-old male driver of the sedan were taken to a nearby hospital for treatment. Current updates revealed they are both in stable condition.
The traffic was redirected as Lakewood's northbound lanes from Donovan to Alameda streets and Columbia's northbound lanes from Imperial Highway were closed.
Police are requesting anyone with information on the collision to contact them as the investigation continues.

Two-Vehicle Accident Statistics
The majority of accidental deaths and injuries in the United States occur in motor vehicle incidents. Another statistic shows that automotive accidents cause almost ten million injuries and two million deaths annually around the globe.
Despite a three-year decline, the National Safety Council reported an 8.3 percent increase in traffic-related fatalities in the United States in 2020. There have been 39,107 people killed in motor vehicle accidents in 2019. In 2020, there were 42,338 of them, up from the previous year's count.
In 2020, 3,847 people died in traffic accidents in California. Less than half of the fatalities (1,587 or 41%) involved two or more cars, while more than half (59% or 2,260) involved a single-vehicle crash.
What to Do After a Car Accident
If you or a loved one are involved in a car accident, call 911 right once. You need to stick to the facts and avoid making any assumptions while dealing with law enforcement or an insurance company. Even if they had nothing to do with what happened, some victims may nonetheless feel remorse. Such behavior could be grounds for a claim denial by the insurer.
One can obtain a copy of the final report by contacting the relevant authorities. You'll also find a short online form on this page that you can fill out. We will immediately begin working on your request once we have received the report. Our well-respected attorney is available for a free consultation if you need help making the most of your insurance benefits.
Car Accident Lawyers in Los Angeles County
Our highly regarded local personal injury and wrongful death attorneys offer free consultations to anybody who has been injured or lost a loved one in an auto accident. Please get in touch with us if you have any questions regarding filing a claim or if you would want to discuss your options with an attorney.
Our trusted Los Angeles County car accident lawyers at Arash Law, led by Arash Khorsandi Esq., have the recognition and vast experience to advocate for accident victims, with awarded compensation totaling $400 million as of yet. Contact (888) 488-1391 or click the "Do I Have a Case?" on our website to schedule a free consultation with one of our lawyers.