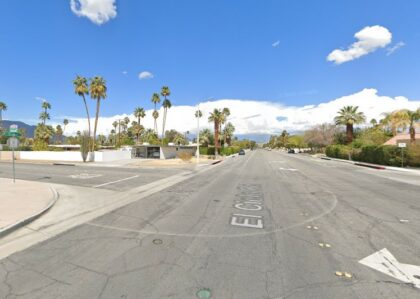 A bicycle crash claimed the life of one person's death in Palm Springs early Monday morning, March 13, 2023.
The deadly collision occurred around 4:45 a.m. near El Cielo to South Compadre.
According to authorities, they received calls about a bicyclist that a small sedan had struck.
Paramedics arrived at the scene and pronounced that the victim had died.
The driver was detained by police and later arrested on unrelated charges.
Ramon Road was closed to all traffic. Just before noon, the road was reopened.
It is still unclear whether drugs or alcohol played a role in the crash.

Fatal Bicycle Accident Statistics
Although there were fewer cycling accidents in 2018, approximately 800 cyclists were killed in the United States in 2018, an increase of 12% from 2001.
The National Center for Health Statistics indicates that 712 bikers were killed by cars in 2010, while 377 died of other causes.
Statistics show that California has the highest rate of fatal bicycle accidents. The National Bicycle Safety Foundation reported that 11,116 cyclists were injured, and 145 died in California in 2017.
Riders are frequently at risk from several road hazards. Drivers ignore cyclists' rights and ride too close to them, even when it is unsafe. Consequently, accidents and even fatalities may occur.
Due to frequent failures to yield the right of way, drivers speed, blow through stop signs and red lights and pay insufficient attention to the road. It is possible to cause a devastating bicycle accident by driving drunk or carelessly.
What Should You Do After an Accident
We are aware that this is a challenging time for you. We can assist you if you need a police report following an incident. Let our team contact the right people to help you obtain the report. Afterward, you can pursue compensation for your injuries by initiating the claims process.
Our team will handle everything, including filing your claim, so you don't have to worry about paying us up front. In addition, we will ensure the responsible party's insurance company pays your medical bills.
We can assist you with any questions or concerns after this incident.
Reputable Bicycle Accident Lawyers in Palm Springs
Anyone injured in a bicycle accident can seek compensation for their losses and damages. Bicycle accidents often involve personal injury claims, which can be filed with the assistance of a lawyer.
A personal injury claim entitles accident victims to compensation for medical bills, lost wages, and pain and suffering.
It may be helpful to consult with an attorney during this difficult time. Your legal documents will be managed, updated, and communicated with insurance companies on your behalf.
Our Palm Springs bicycle accident lawyers at Arash Law, led by Arash Khorsandi, Esq., have years of experience and can assist accident victims in these legal proceedings. More than $400 million has been recovered for clients across the state due to our efforts.
Contact us at (888) 488-1391 or via our website's "Do I Have a Case?" form to schedule an initial consultation.