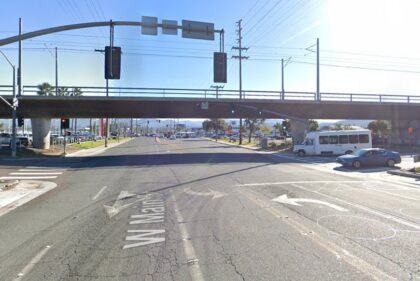 A pedestrian crash claimed the life of one man in El Cajon on Monday night, March 13, 2023.
According to authorities, the fatal collision transpired around 8:20 p.m. on westbound Interstate 8 near W Main Street.
Reports stated that a man walked into the path of a driver attempting to change lanes and ended up hitting the pedestrian.
Responders were called and pronounced that the victim had died.
Meanwhile, the 44-year-old male driver suffered minor injuries and was taken to Sharp Memorial Hospital.
The driver was not suspected of being impaired by drugs or alcohol.
It is unknown whether the pedestrian was under the influence of drugs or alcohol during the accident.
Officials are investigating the incident, and the circumstances leading up to the crash are unknown.

Fatal Pedestrian Crash Statistics
As per the Governors Highway Safety Association, there were 7,485 pedestrians killed in traffic collisions in 2021, a record high for the last 40 years.
Speeding contributed to 8.6% of pedestrian fatalities in 2020, up from 7.2% in 2019. Pedestrian safety is significantly affected by speed. A pedestrian's death risk rapidly increases from 10% at 23 mph to 90% at 58 mph as vehicle speed increases. as vehicle speed rises, going from 10% at 23 mph to 90% at 58 mph.
Pedestrians who are struck by cars usually suffer serious injuries. Pedestrians are most likely to be injured if a vehicle collides with them.
Accidents involving pedestrians occur most often when drivers fail to yield to pedestrians or brake too suddenly.
Pedestrians must use sidewalks, refrain from drinking or using drugs and exercise caution when crossing parking lots or driveways. Consequently, they are less likely to suffer injuries in these collisions.
What Should You Do After an Accident
We can help you obtain a police report if you've been involved in an accident.
All we need is information about what happened and where it occurred. Once we have all the information you need, we will contact the relevant parties.
We manage this process for every client, so you don't have to worry if your insurance will cover any damages or injuries – we will ensure everything is covered!
Pedestrian Accident Lawyers in El Cajon
Pedestrian safety should always come first, even when a crosswalk is not strictly required. If a pedestrian collides with another vehicle, they always have the right of way. Drivers suspected of breaking the law will be questioned.
An insurance claim can be a time-consuming process. With our firm, you can be assured that your lawsuit will be handled effectively.
A compensation claim from the responsible party or insurer may reduce your financial burden. If you need help with your case and are unfamiliar with the complex legal system, you should speak with an experienced lawyer.
Our El Cajon pedestrian accident lawyers at Arash Law, led by Arash Khorsandi, Esq., strive to ensure our clients receive the best possible representation. We work hard to get you back to your routine as soon as possible after a severe injury.
Dial (888) 488-1391 today or fill out our online "Do I Have a Case?" form to arrange a no-obligation consultation with our legal team.