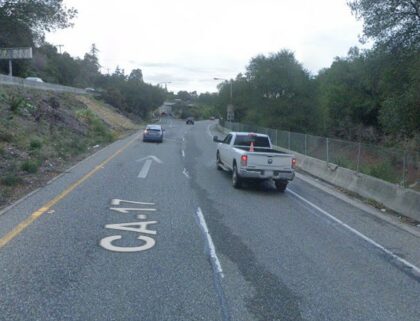 Three people were injured after a traffic collision in Los Gatos on Monday night, March 13, 2023.
According to reports, the crash occurred around 8:49 p.m. on northbound Highway 17, south of South Santa Cruz Avenue.
Authorities confirmed that three people were injured and hospitalized. Details on their identity and condition have not been released.
As of 9:13 p.m., one lane had reopened. Previously, all roads were closed.
Motorists were advised to expect delays in the area.
Officials do not know when the road will be fully reopened, and further investigations are underway.

Car Accident Statistics
According to the National Safety Council, roads became less safe in 2020 for various reasons, including more people dying in accidents where they were not wearing seat belts, speeding, or driving under the influence. After a three-year decline, deaths increased by 8.3%. In 2020, 42,338 people died in car accidents, up from 39,107 in 2019.
Even with this increase, deaths per 10,000 registered cars decreased by 95% between 1913 and 2020, from 33 to 1.53 per 10,000. In 2020, there were 276 million registered vehicles and 42,338 road fatalities.
In the same year, 11% fewer miles were traveled, 0.2% fewer registered vehicles, and 0.4% more people than in 2019. Thus, the death rate per mile traveled increased by 21.7%, the death rate per vehicle increased by 8.5%, and the death rate per person increased by 7.9%.
In 2020, 4.8 million people were injured in car accidents and required medical attention. The total cost of automobile injuries was estimated to be $473.2 billion. Expenses include lost wages and productivity, medical bills, administrative costs, vehicle damage, and employer costs.
What To Do Following an Accident
Upon collecting information, it is wise to file a police report if it is safe. This allows the police to record what happened during the accident in a central database, and they keep these records on file within the police department, which keeps the information secure.
Usually, the police will attend the accident scene in any case; however, if they do not, you can contact your local police via phone or in person and file an accident report. If the police are not present at the collision scene, they will collect the information, and a police report will be created afterward.
Car Accident Attorneys in Los Gatos
Life-threatening injuries sustained in a car accident are more likely to result in medical debt and extended absences from work. In addition to physical pain and psychological distress, victims may experience emotional trauma.
Compensation claims are time-consuming and labor-intensive to process. When an insurance company is pressing you, it is imperative to seek legal advice. Using recorded testimony against you can harm your case by reducing the negligent party's liability.
You can count on our Los Gatos car accident attorneys at Arash Law, led by Arash Khorsandi, Esq., to immediately investigate the accident. As part of the settlement process, we utilize time-tested legal procedures with insurance carriers to ensure that damages are adequately assessed.
Our firm has recovered $400 million in client claims over the past few years. As an experienced law firm with over ten years of experience, you can count on us to fight for the settlement you deserve.
To schedule a free consultation, dial (888) 488-1391 today or click the "Do I Have a Case?" link on the website.