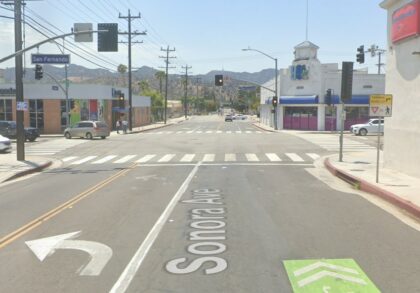 One person was hospitalized after their vehicle was struck by a train in Burbank on Tuesday afternoon, March 14, 2023.
The collision reportedly occurred around 4:45 p.m. near Sonora Avenue and San Fernando Road.
A train collided with a vehicle in Burbank on Tuesday afternoon, sending one person to the hospital.
First responders were dispatched to the scene and discovered that the vehicle had flown off the tracks and overturned, trapping the lone occupant inside.
Firefighters could extricate the person from the vehicle before transporting them to a nearby hospital. Their current condition is unknown.
The circumstances surrounding the collision are unknown at the time.
It is believed that no one on board the train was injured.

Train Crash Statistics
The National Transportation Safety Board reports that trains collide with people or vehicles every two hours. A train accident kills more than a thousand people every year. It causes approximately 2,300 injuries and 600 deaths.
According to the National Transportation Safety Board, pedestrians are more likely to die in train accidents than in automobile accidents. Unsafe crossings, outdated safety features, and a lack of warning systems for motorists are responsible for 50% of fatal train accidents.
Over 7,200 people have died in train accidents in the United States since 1997. Trains colliding with pedestrians have recently surpassed all other causes of death on American railroads as the leading cause of fatalities.
Trains are the most efficient mode of transportation. Several factors influence employee and passenger safety, including conductor skill and maintenance frequency. The danger arises from their carelessness or use of unsafe shortcuts.
Derailments, worn-out tracks, disregard for safety regulations, lax security, and other forms of negligence also cause train accidents.
How Do I Obtain a Police Report After an Accident?
We can help you obtain a police report after you've been involved in an accident.
We only need to know what happened and where it happened. Once we have obtained all the necessary information, we will contact the relevant parties.
Our team handles this process for every client, so you don't need to worry about insurance coverage – we'll ensure everything is covered!
Award-Winning Train Accident Attorneys in Burbank
Everybody has used the subway or another form of public transportation at least once. Accidents can still happen even though this is a relatively safe and efficient mode of transportation.
Despite its lower risk, train accidents will likely cause injury or death. Those injured in a train accident may be entitled to financial compensation, including reimbursement for medical expenses, lost wages, and mental anguish.
Our team will negotiate with the insurance company to fully compensate you for your accident-related medical expenses, lost wages, and pain and suffering.
You can count on our Burbank train accident attorneys at Arash Law, led by Arash Khorsandi, Esq., who are committed to defending the rights of those injured in a train accident. Let us handle obtaining the compensation you deserve so you can focus on getting better.
Call us at (888) 488-1391 or fill out the "Do I Have a Case?" form on our website to arrange your free legal consultation with our legal team.