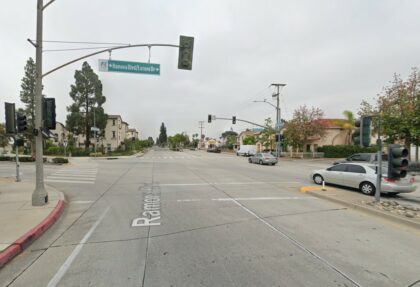 A multi-vehicle collision caused one vehicle to flip over in Baldwin Park on Tuesday afternoon, March 14, 2023.
Reports indicated that the crash transpired around 4:35 p.m. at the intersection of Badillo Street and Ramona Boulevard.
According to authorities, they received calls of the collision involving three vehicles and discovered one car flipped on its side.
Firefighters were called to the scene and confirmed that no one was trapped inside the vehicle.
No significant injuries were reported, and further investigations are currently underway.

Multi-Vehicle Collision Statistics
According to the National Highway Traffic Safety Administration, 36,560 people were injured, and 33,654 died in car accidents in 2017.
Approximately 13,000 people die each year in similar circumstances due to multiple vehicle traffic accidents. Among all states, California has the highest fatality rate in car accidents.
A multi-vehicle collision is more likely to cause property damage and severe fatal injuries than other traffic accidents. The lack of situational awareness or control of someone can negatively affect others around them. Most of the time, these collisions occur.
To avoid being involved in fatal accidents, keep your eyes on the road, monitor your speed, and pay attention to your surroundings.
How Can You Obtain a Police Report After an Accident
We know that this is a challenging time for you. We can help you obtain a police report for this incident. Our team will contact the appropriate people and assist you in getting the report. The next step is to initiate the claims process and obtain compensation for your injuries.
There's no need to pay us upfront; everything will be handled for you, including filing your claim. In addition, we will ensure that the responsible party's insurance company pays your medical bills.
In case of any questions or concerns after an accident like this, please do not hesitate to reach out.
When multiple vehicles collide, several victims are often injured. Victims often suffer severe fractures, abrasions, spinal injuries, and head injuries. The recovery process could take years and cost up to a thousand dollars in hospital bills.
Trusted Car Accident Lawyers in Baldwin Park
Accidents generally affect a person's physical, psychological, and emotional health. The sooner you seek legal advice, the better your chances of preventing further complications.
Don't hesitate to call our Baldwin Park car accident lawyers at Arash Law, headed by Arash Khorsandi, Esq., if you've been involved in a similar accident. These are their areas of expertise, which they handle daily.
Each of our attorneys is dedicated to every case they handle, ensuring that clients receive the compensation they deserve.
Our legal team can assist you with all of your legal needs. To schedule a free consultation, contact our hotline at (888) 488-1391 or through our website's "Do I Have a Case?" section.