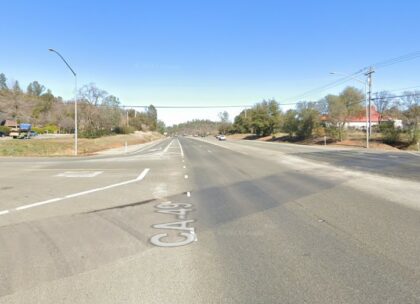 Three people sustained minor to moderate injuries after a multi-vehicle collision in Nevada County on Tuesday morning, March 14, 2023.
According to California Highway Patrol, the three-vehicle crash occurred on Highway 49 near Streeter Road, near the unincorporated community of Higgins Corner.
Ariana S., 21, from the town of Cool, was reportedly traveling northbound on the highway at a speed not reasonable given that it was raining fairly well and the road was wet.
She then hydroplaned after making a lane change and losing control, skidded sideways into the opposite lanes, and collided with two vehicles. She ended up with moderate injuries.
The drivers of the two cars, Grace V., 20, of Penn Valley, and Nelson R., 40, of Cedar Ridge, sustained minor injuries. It is unclear whether they were transported to the hospital.
The airbags and the victims wearing their seatbelts greatly helped avoid serious injuries. The traffic was affected for roughly an hour before the crash site was cleared.

Multi-Vehicle Accident Statistics
The great majority of accidental deaths and injuries in the United States occur due to motor vehicle accidents. Around two million individuals lose their lives and ten million are injured every year due to automotive accidents around the world.
According to the National Safety Council, despite a three-year decline, the recorded number of American deaths due to traffic accidents increased by 8.3 percent in 2020. There have been 39,107 fatalities in 2019 due to motor vehicle collisions. The number increased from that year to 42,338 in 2020.
In 2020, there were 3,847 people killed in automobile accidents in the state of California. 59%, or 2,260 deaths, included only one car, while 41%, or 1,587 deaths, involved two or more vehicles.
What to Do After a Car Accident
Immediately call 911 if you or a loved one has been involved in an automobile crash. When dealing with authorities or insurers, you must always be truthful and avoid making any assumptions. Some victims, despite their innocence, may try to make amends. If the victim continues to act this way, the insurance company may choose not to pay out.
A copy of the completed report can be obtained by making a formal request to the relevant authorities. Please use the brief online form on this page to get in contact with us ASAP. After receiving your inquiry, we will promptly begin working on it. If you have any concerns regarding the potential worth of your claim, please don't hesitate to call our well-respected attorney for a free, no-risk consultation.
Car Accident Lawyers in Nevada County
Please feel free to call our highly regarded local personal injury and wrongful death attorneys for a free consultation if you or a loved one has been injured in a car accident. Please contact us if you have any questions regarding filing a claim or want to set up a meeting with one of our attorneys.
Our trusted Nevada County car accident lawyers at Arash Law, led by Arash Khorsandi Esq., have the recognition and vast experience to advocate for accident victims, with awarded compensation totaling $400 million as of yet. Contact (888) 488-1391 or click the "Do I Have a Case?" on our website to schedule a free consultation with one of our lawyers.