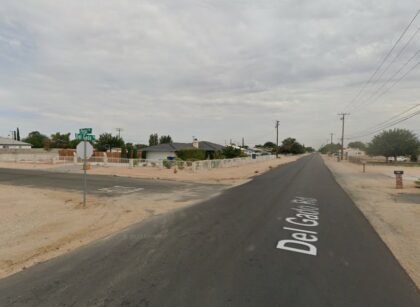 A pedestrian crash killed a 36-year-old, identified as Kody K., in Victorville on Tuesday night, March 14, 2023.
The deadly collision reportedly occurred around 8:55 p.m. on Del Gado Road, south of Peral Road.
According to authorities, A 29-year-old male was driving a dark blue 2008 Ford Edge southbound, traveling at about 40 mph, when it collided with a pedestrian walking on the road.
The pedestrian came to rest along with the vehicle on the west shoulder of Del Gado Road.
The victim was transported to Desert Valley Hospital by ambulance, where he succumbed to his injuries and died.
Authorities are still investigating the crash; anyone with information is asked to call 760-241-1186.

Fatal Pedestrian Crash Statistics
The Governors Highway Safety Association reported 7,485 pedestrian deaths in 2021, the most in over four decades.
As of 2020, pedestrian fatalities caused by speed increased from 7.2% to 8.6%. Pedestrian safety is greatly affected by rate. Pedestrian fatalities are estimated to grow with vehicle speed, reaching 90% at 58 mph.
In 2016, 5,937 pedestrians died in the United States. It was estimated that 88 people would die every minute by the end of the year. Over 137,000 pedestrians were injured and sought medical attention in 2017.
Deaths and crashes involving pedestrians are most common in California. Almost 14,000 pedestrians were injured in 2012, and 893 were killed.
It is imperative that pedestrians use walkways, abstain from drugs and alcohol, and cross parking lots and driveways carefully. By following these guidelines, they will be more likely to prevent accidents.
How To Obtain a Police Report Following an Accident
We can help you obtain a police report after an accident.
We only need to know what happened and where it happened. Afterward, we will contact the appropriate parties and get you all the necessary information.
This process is handled for each client, so you don't have to worry about whether your insurance will cover any damage or injuries-we'll guarantee that everything is covered!
Reputable Pedestrian Accident Attorneys in Victorville
A pedestrian injured or killed in an accident in California is entitled to the same rights as any other victim of personal injury.
We can assist you in maximizing your claim with insurers to receive the highest compensation possible.
You can rely on our reputable Victorville pedestrian accident lawyers at Arash Law, led by Arash Khorsandi, Esq., who have extensive experience representing victims in these legal proceedings. Through our efforts, our clients have received compensation totaling $400 million.
Call (888) 488-1391 or through the website's "Do I Have a Case?" section to schedule a free case evaluation with one of our attorneys.