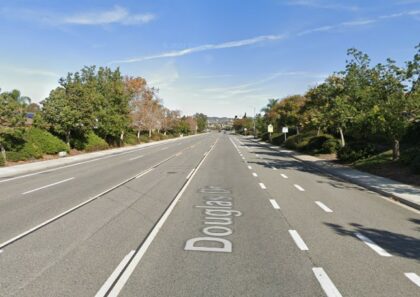 A suspected DUI collision claimed the life of an unidentified bicyclist in Oceanside on Tuesday afternoon, March 14, 2023.
The fatal crash reportedly occurred around 5:19 p.m. southbound on Douglas Drive.
Authorities revealed that the bicyclist was traveling on or near the sidewalk when a motorist struck him.
The male victim is believed to be in his 50s. He was reported to have died at the scene from his injuries. His identity has yet to be revealed.
The motorist remained at the scene and was detained on suspicion of driving under the influence and vehicular manslaughter.
Lanes from El Camino Real to Mission Avenue were closed while authorities investigated.
Those with information about the crash are urged to contact Crime Stoppers at (619) 235-8477.

Fatal DUI Collision Statistics
According to the National Highway Traffic Safety Administration, approximately 10,000 fatal car accidents are caused by drunk drivers each year. It is estimated that alcohol contributes to 18% of all deadly car accidents.
Drunk driving accidents in California result in 30,000 injuries and more than 2,000 deaths yearly. Several laws pertain to driving while intoxicated (DWI) and driving under the influence (DUI).
Risky behaviors are likely to occur when driving under drugs or alcohol. A person who drives under the influence violates the law.
While driving, no one should be concerned about getting injured. Drunk drivers endanger other drivers. Every state has laws against driving while intoxicated.
Often, disabled drivers have trouble seeing, judging, and reacting in time. Drunk drivers endanger public safety on California's busiest highway stretches due to impaired decision-making and senses.
What To Following an Accident
We recognize that this is a challenging time for you. We can assist you if you need a police report on this incident. We will contact the appropriate people and help you obtain the report. Then, you can get started on the claims process and seek compensation for your injuries.
Our team will handle everything, including filing your claim, so you don't have to worry. As part of our service, we will ensure that the responsible party's insurance company pays your medical bills.
Feel free to contact us with any questions or concerns about moving forward after an accident like this.
DUI Accident Lawyers for Victims in Oceanside
Accident victims have the legal right to claim damages from the driver who caused their injury. Affected individuals must deal with lost wages, time away from work, and hefty medical bills.
DUI accident victims can count on our firm's dedicated representation. Drunk drivers must face the consequences of their actions on the road due to the dangers they pose. Consequently, drunk drivers must be held accountable for the harm they cause to victims in DUI accidents.
Our Oceanside DUI accident lawyers at Arash Law, headed by Arash Khorsandi, Esq., work hard to ensure clients receive the best settlement possible.
We can assist you if you or a loved one has been injured by drunk driving in California. For a free consultation, call (888) 488-1391 or fill out our "Do I Have a Case?" form.