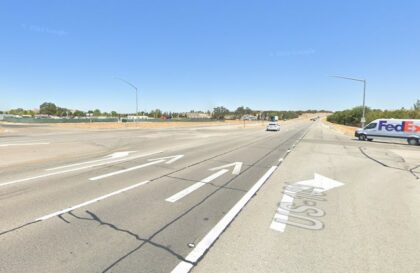 A single-vehicle crash claimed one person's life and injured two near El Paso De Robles on Tuesday night, March 14, 2023.
The deadly collision reportedly occurred around 11:20 p.m. on Highway 101 near Wellsona Road.
Firefighters responded to calls of the crash and discovered three people inside a vehicle. All three victims needed to be extricated.
Due to the impact, one victim was pronounced dead at the scene, while the two victims were transported to the hospital.
The crash's cause is being investigated.

Fatal Single-Vehicle Crash Statistics
As per the Centers for Disease Control and Prevention, approximately 1.35 million people die on American roads annually. The collisions usually result in the deaths of bicyclists, motorcyclists, and pedestrians.
Traffic collisions are the eighth leading cause of death in the world and the main cause of death among children and teenagers.
As of 2020, there were 1.37 fatalities per 100 kilometers driven in the United States. In the first quarter of 2021, traffic fatalities increased by 18.4% over last year.
Several factors can cause single-car collisions. During a run-off-the-road accident, a driver loses control of their vehicle after speeding or making sudden maneuvers on a wet, slick road. Tree branches and items falling from trucks may litter the streets.
Seatbelt use, responsible driving, and avoiding distractions all lead to a lower incidence of these accidents. Regardless of precautions taken, there is always a risk of being involved in these fatal incidents.
What To After an Accident Occurred
It is a good idea to file a police report after collecting information, assuming it is safe. This allows the police to record what happened during the accident on a central database. These records are kept on file within the police department, and it ensures that data is held securely.
If the police aren't present at an accident scene, you can contact your local police by phone or in person and file your accident report. In this way, if the police aren't present at the collision scene, they will collect the information independently, and the police will prepare an accident report later.
Car Accident Attorneys in El Paso De Robles
Careless driving is always wrong, regardless of the consequences. Insurance companies might be able to compensate you if the reckless driver directly caused your injuries.
Testifying about past losses or traumas in a deposition or trial can be emotionally draining. Court hearings can be highly stressful for anyone, especially the victims.
It is essential to file a lawsuit against the negligent party as soon as possible after a car accident. Those responsible for severe injuries due to someone else's irresponsibility must be held accountable.
Our El Paso De Robles car accident attorneys at Arash Law, led by Arash Khorsandi, Esq., can help you pursue the financial compensation you deserve following a collision.
In addition to Los Angeles, San Diego, Bakersfield, Riverside, San Jose, and Sacramento, we serve clients throughout California. To schedule a free case review, dial (888) 488-1391 today or complete our "Do I Have a Case?" form on our website.