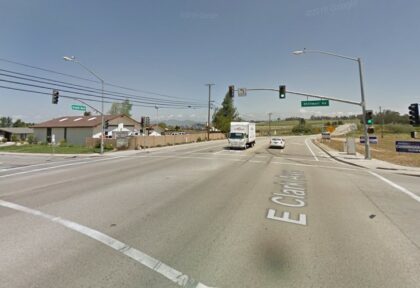 A two-vehicle collision left one woman with critical injuries in Santa Barbara County on Tuesday, March 14, 2023.
According to reports, the crash occurred between Stilwell Road and East Clark in Orcutt.
Authorities received calls of the collision involving a minivan and a white Tahoe.
The female driver was extricated from the minivan in critical condition and taken to Marion Hospital for treatment.
Meanwhile, the other car's male driver and child were unharmed.
Further details on the collision are currently underway.

Two-Vehicle Collision Statistics
According to the Fatality Analysis Reporting System, 38,824 motor vehicle crashes occurred in the United States in 2020, killing 35,766 people. The fatality rate per 100,000 people is 11.7, while 11.7 per 100 million kilometers traveled.
Twenty-five million car accidents in the United States resulted in non-fatal injuries, and many victims suffered long-term disabilities. Throughout the years, it has contributed to 8% of all fatalities in the state.
The number of traffic fatalities in California was expected to rise by 3847 between 2020 and 2021, reaching 4,258.
Most automobile accidents are caused by human error, such as driving under the influence, speeding, or texting while driving. Vehicle defects, poor route design, and adverse weather conditions can cause accidents.
Ensure you leave a safe distance behind you and ahead of you for your and others' safety. Observe all traffic laws and be aware of potential hazards. Even with these precautions, car accidents remain the leading cause of death in the country.
How Do I Obtain a Police Report Following an Accident?
Contact your local police department where the accident occurred to obtain a police report. Your police department will be able to provide you with the necessary information to get a copy of your report. You may request a copy of your report through us if you cannot obtain one directly from the police department. Our online form can be filled out to do this.
We will begin the claims process for you as soon as we receive your request for a report copy. Our team will work with you until all necessary documentation and information regarding your claim have been obtained.
Award-Winning Car Accident Attorneys in Santa Barbara County
Although car accident victims have a small window of opportunity to avoid a collision, they often suffer lifelong consequences. This is due to several factors, including high healthcare costs and lost wages while recovering.
Legal negligence is often responsible for car accidents. Your attorney will use this information to establish that the other driver's negligence caused the accident.
Count on our Santa Barbara County car accident attorneys at Arash Law, headed by Arash Khorsandi, Esq., to fight for your right to a fair settlement if you or a loved one has been injured in a similar collision.
Our reputable firm has recovered more than $400 million in compensation for victims of car accidents. As with all our clients, we guarantee to treat your case with the same focus and dedication.
Don't hesitate to dial (888) 488-1391 or visit our website and click the "Do I Have a Case?" link to schedule a free legal consultation with our legal team.