Two white California residents have been arrested in connection with the murder of a Black Navy veteran identified as 30-year-old Justin P. in Tracy, California, on Tuesday, March 15, 2022.
According to the DA's office, the fatal assault occurred on a Tuesday at a local gas station in Tracy, California.
The San Joaquin County District Attorney has charged both parties with murder and hate crimes, and a third person has been apprehended for assisting the couple in their escape attempt.
Christina G., 42, and Jeremy J., 49, have been charged with murder in the death of Peoples in Tracy, California, according to Tori Verber Salazar, the first female district attorney in San Joaquin County.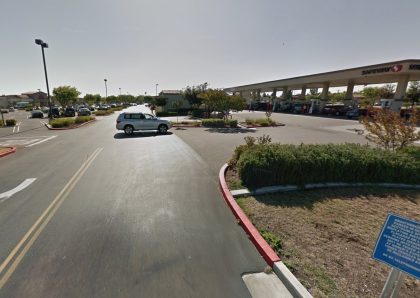 These charges are accompanied by hate crimes charges, as the couple is suspected of killing Peoples because of his race.
Garner and Jones are both white, and Peoples was a Black man. According to Tracy police, the slaying was caused by a confrontation between the couple and the man at the gas station.
Jones has been charged with one count of premeditated murder in the first degree, weapons enhancement for the use of a knife, and special circumstance for the hate crime.
Garner has been charged with one count of murder, one count of felony possession of a firearm, and one count of weapons enhancement for using a firearm during the commission of a felony with special circumstances for the hate crime.
Officers from Tracy Police Department responded to a report of a man being shot at the Chevron gas station on North Tracy Boulevard.
Peoples was lying on the ground when the cops arrived, wounded by a single gunshot and multiple stab wounds. Peoples was pronounced dead at a nearby hospital almost two hours after the shooting, according to Channel 3000.
The department's Special Investigations Unit and Special Enforcement Team were called to investigate the case, and Garner and Jones were arrested within days.
The two suspects were located and arrested without incident by the Tracy Police Department SWAT team in a Stockton home on Wednesday, March 16.
The couple was charged with the former sailor's death and the use of weapons (a gun and a knife) in the killing by the Office of the District Attorney, who also named their associate Christopher D., 58, as an accessory to their crimes.
She also believes her office has proof linking Jones to white supremacist organizations.
Salazar did not elaborate on why she believes there is a link between the suspects and hate groups.
According to Salazar, the suspects have a history of supporting Nazis, white pride, skinheads, and the Aryan Brotherhood.
The District Attorney's office released photos of the man's tattoos. The words "white pride" are inked on one of his body inks, and a swastika is inked on another.
The three defendants will be arraigned before Judge Ronald Northup on April 4, 2022, but the DA has requested that they remain in custody until then.


Premises Liability Lawyer for Victims in San Joaquin County
To file a negligent security claim against the owner of the property where the crime occurred is a viable option for those who have been injured as a result of an assault, sexual assault, or battery. It's possible that they'll give you some money.
There is a type of premises liability case known as a negligent security lawsuit. It gives you the right to sue the owner of the property if your injuries were caused by criminal activity in the area and the owner failed to provide adequate security.
Our San Joaquin County premises liability lawyers at Arash Law can help you right away. It is possible that they will be able to assist you in your legal matter. We have a long history of successful settlements and trials, and we can get you a fair settlement. To begin, dial (888) 488-1391 immediately.