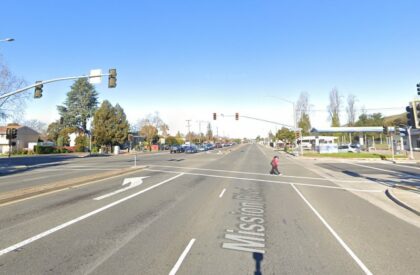 One person suffered serious injuries after a pedestrian crash in Union City on Wednesday morning, March 15, 2023.
The collision happened at about 8:11 a.m. on 33115 Mission Boulevard, just south of a Starbucks.
The Union City Police Department reported that the driver was involved in a commotion inside the nearby Starbucks before the collision happened.
UCPD's Traffic Unit is currently looking conducting an investigation into this matter. Anyone with information about the collision is encouraged to contact the authorities.

Pedestrian Accident Statistics
According to the Governors Highway Safety Association, there was a 14% decrease in the number of fatal car accidents between 2007 and 2016. However, during that same time, pedestrian fatalities rose by 27%.
These figures suggest that walking along American highways is becoming more and more dangerous.
In 2016, there were 5,977 pedestrian fatalities in the US. By the end of the year, 88 people were passing away every minute. More than 137,000 pedestrians required medical attention in 2017 due to injuries sustained in motor vehicle accidents.
In 2012, there were 893 pedestrian fatalities and nearly 14,000 injuries in California. The statistics show that this is California's leading cause of pedestrian injuries.
What to Do After a Pedestrian Accident
If you or a loved one has been in a truck accident, dial 911 immediately. It's crucial to be honest and never make assumptions when communicating with law enforcement or insurance companies. It's possible that some of the victims feel remorse which might cause the insurance company not to pay out the victim's claim.
The appropriate authorities should provide you with a copy of the completed report upon request. If you need to get in touch with us quickly, please fill out the brief online form provided below. The moment we get your message, we'll get to work on answering your question. If you're worried about the strength of your case, feel free to contact our reputable attorney for a free, no-obligation consultation.
Pedestrian Accident Lawyers in Union City
Pedestrians in the state of California have the same rights to compensation in the event of an accident as drivers, passengers, and riders. If you or a loved one were injured in a car crash that wasn't your fault, you could file a personal injury lawsuit against the negligent driver.
Our trusted Union City pedestrian accident lawyers at Arash Law, led by Arash Khorsandi, Esq., have extensive experience and accolades advocating for accident victims. Our clients have received a total of $400 million in compensation.
Call (888) 488-1391 now or fill out the "Do I Have a Case?" form on our website to set up a free consultation with one of our attorneys.