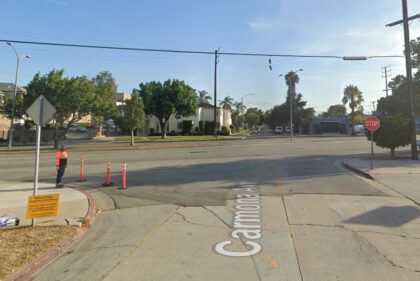 One person was hospitalized after a car overturned in Central Los Angeles on Wednesday evening, March 15, 2023.
The crash occurred before 10:00 p.m. on the 1700 block of Carmona Avenue, Central LA's Mid-City district.
The Los Angeles Fire Department discovered that one of the two victims had already exited while another was still inside the SUV.
LAFD managed to rescue the victim, who was rushed to a nearby hospital.
The West Traffic Division of the Los Angeles Police Department will look into the cause of the accident.

Single-Vehicle Crash Statistics
In the United States, 1.35 million people per year pass away on roads, according to the Centers for Disease Control and Prevention. In these collisions, pedestrians, bicyclists, and motorcycle riders sustain fatal injuries.
Car accidents are the eighth leading cause of death worldwide and the leading cause of death in young children and teenagers. In 2020, there were 1.37 fatalities per 100 kilometers driven in the U.S. In the first three months of 2021, there were 18.4% more traffic fatalities than in the same period last year.
Many factors can cause single-vehicle crashes. In run-off-the-road accidents, vehicles lose control after speeding or suddenly maneuvering on wet, slick roads. These accidents can be decreased by using a seatbelt, staying focused, and avoiding distractions while driving. People risk becoming involved in fatal accidents even when taking precautions.
What Should You Do After an Accident Occurred?
Make sure the police come and fill out a report about the accident. It's important to tell the truth about what happened once you are interviewed at the scene of the accident. Watch what you say and don't jump to conclusions about things you don't fully grasp. Even if they were not at fault, accident victims often apologize profusely to those around them. Insurance companies may use your good deed against you as proof of guilt to deny payment of a claim.
People on foot, on bikes, and in cars have all been hurt due to California's high traffic accident rate. We have attorneys who can assist you whether or not you were driving a vehicle during the accident. We will pursue the money you are legally entitled to receive and keep you apprised of our progress while you concentrate on getting well.
Car Accident Attorneys in Los Angeles County
Driving recklessly is wrong whether or not it results in physical injury. If someone is hurt because of a careless driver, they can file a claim with their insurance company.
Testifying about past losses and traumas at a deposition or trial can be emotionally draining. Victims of crimes, in particular, may find court proceedings extremely stressful.
If you've been in a car crash, you need to take legal action against the person or people responsible. Individuals who cause harm to others through carelessness must face the consequences.
When you've been in a car accident, you can count on our Los Angeles car accident attorneys, at Arash Law, headed by Arash Khorsandi, Esq., to fight for your rights and pursue a fair settlement.
Customers travel all over the state to work with us, including major metropolitan areas like Los Angeles, San Diego, Bakersfield, Riverside, San Jose, and Sacramento. For a free, no-obligation consultation with one of our attorneys, dial (888) 488-1391 or fill out our "Do I Have a Case?" form on our website.