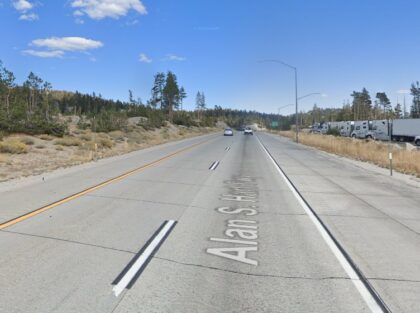 Minor injuries were reported after a wrong-way driver crashed head-on with a semi-truck and attempted to flee the scene in Nevada County on Wednesday afternoon, March 15, 2023.
According to the California Highway Patrol, who responded with Truckee Police and Nevada County Sheriff's Office, the crash occurred at about 12:15 p.m. along eastbound Interstate 80 near the Donner Rest area.
A gold Lexus SUV was reportedly traveling westbound on the eastbound I-80 lanes before colliding head-on with an 18-wheeler tractor-trailer combination vehicle, resulting in minor injuries.
The Lexus driver immediately tried to leave the scene on foot, jumping on other passing motorists and trying to carjack their vehicles. The responding officers then located the unidentified suspect driver as he fled on foot along I-80 near Castle Peak.
He was taken into custody and booked into the Nevada County Jail on numerous offenses, including reckless driving, hit and run, and suspicion of DUI.
No further details were immediately available on the condition of the truck driver. Anyone with information on the crash is urged to call the authorities.

Reckless Accident Statistics
In the United States, reckless drivers annually account for hundreds of fatalities and thousands of injuries. According to the National Highway Traffic Safety Administration, "willful disregard" for the safety of other drivers on the road constitutes reckless driving.
There is probably no way to know how many people are killed or injured yearly solely due to irresponsible driving. Nonetheless, the AAA found that between 2003 and 2007, careless driving contributed to 56% of all traffic accidents.
Excessive speed is the leading contributor to fatal car accidents in the United States, as the data collected annually shows. Drunk driving is also a significant factor that causes problems along the country's roadways.
What to Do After a Car Accident
If you or a loved one has been in an automobile accident, you must report it to the authorities right away. Always be honest and never make assumptions while communicating with law enforcement or insurance companies. Some victims may feel responsible for apologizing even though they did nothing wrong. The insurance company may refuse to pay out if the victim engages in such conduct.
The appropriate authorities must provide you with a copy of the final report upon request. Please fill out the short online form below to contact us immediately. After we get your inquiry, we'll get right to work. Contact our well-respected attorney for a free, no-obligation consultation if you have concerns about the financial outcome of your case.
Reckless Accident Victim Lawyers in Nevada County
If the victim is killed or gravely injured, his or her family may be eligible to file a lawsuit against the at-fault driver. Anyone who has been wounded in a car accident that wasn't their fault should not hesitate to contact a personal injury attorney in California.
Our award-winning Nevada County reckless accident lawyers at Arash Law, led by Arash Khorsandi, Esq., have years of experience in advocating for accident victims, with granted compensation totaling $400 million so far.
Contact (888) 488-1391 or click the "Do I Have a Case?" on our website to schedule a free consultation with one of our lawyers.