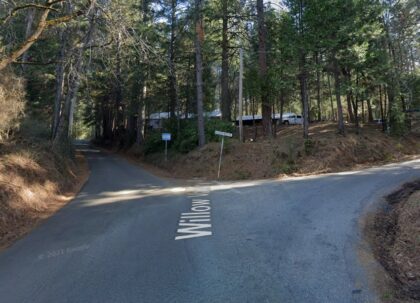 Two people were injured, one significant, after the pickup truck they were riding crashed into a snowbank in Nevada County on Wednesday morning, March 15, 2023.
According to the California Highway Patrol, the single-vehicle crash occurred late in the morning on Scotts Valley Road east of Willow Valley Road, near the unincorporated community of Willow Valley.
Michael B., 22, was reportedly driving with his 17-year-old male passenger when their vehicle apparently had a mechanical problem. The brake reportedly failed, causing him to crash it into the snowbank on the roadside.
After the truck overturned, the driver was thrown out of the front windshield for not wearing a seatbelt. He sustained major injuries but was assisted by a witness who happened to be an ER doctor. He was airlifted to Sutter Roseville Hospital in an unknown condition.
The unidentified passenger sustained minor injuries, and his exact condition is currently unknown. No further information was released as the investigation into the crash continued.

Single-Car Accident Statistics
In 2020, the National Safety Council reported that speeding, drunk driving, and failing to wear safety devices like seatbelts were the leading causes of accidental death and serious injury on American roadways.
In 2020, after three years of reduction, the death rate related to traffic accidents in the United States increased by 8.3 percent. The number of people killed in automotive accidents rose to 42,338 in 2020 from 39,107 in 2019.
In 2020, car accidents sent more than 4.8 million individuals to the emergency room. It is estimated that around $473.2 billion has been set aside to care for victims of traffic accidents. The cost of things like lost pay, transportation, medical care, office supplies, and car repairs can quickly add up.
What to Do After a Car Accident
If you or a loved one has been engaged in a car crash, it is crucial that you get in touch with the police immediately. Always be honest and never make assumptions while communicating with law enforcement or insurance companies. Innocent victims may feel obligated to apologize even if they were not at fault in any way. An insurance company may decide not to pay out if the victim acts in such a way.
If you formally request it, the appropriate authorities should provide you with a copy of the completed report. Fill out the brief online form on this page to get in contact with us right away. We promise to start working on your inquiry as soon as we get it. Feel free to contact our famous attorney for a no-obligation consultation if you have any questions about the possible compensation for your case.
Car Accident Lawyers in Nevada County
Call us today for a free consultation if you or a loved one has been wounded in a car accident and you believe you may have a case for personal injury or wrongful death. If you have questions about filing an insurance claim or would like legal counsel before doing so, please contact us.
Our trusted Nevada County car accident lawyers at Arash Law, led by Arash Khorsandi Esq., have the recognition and vast experience to advocate for accident victims, with awarded compensation totaling $400 million as of yet. Contact (888) 488-1391 or click the "Do I Have a Case?" on our website to schedule a free consultation with one of our lawyers.